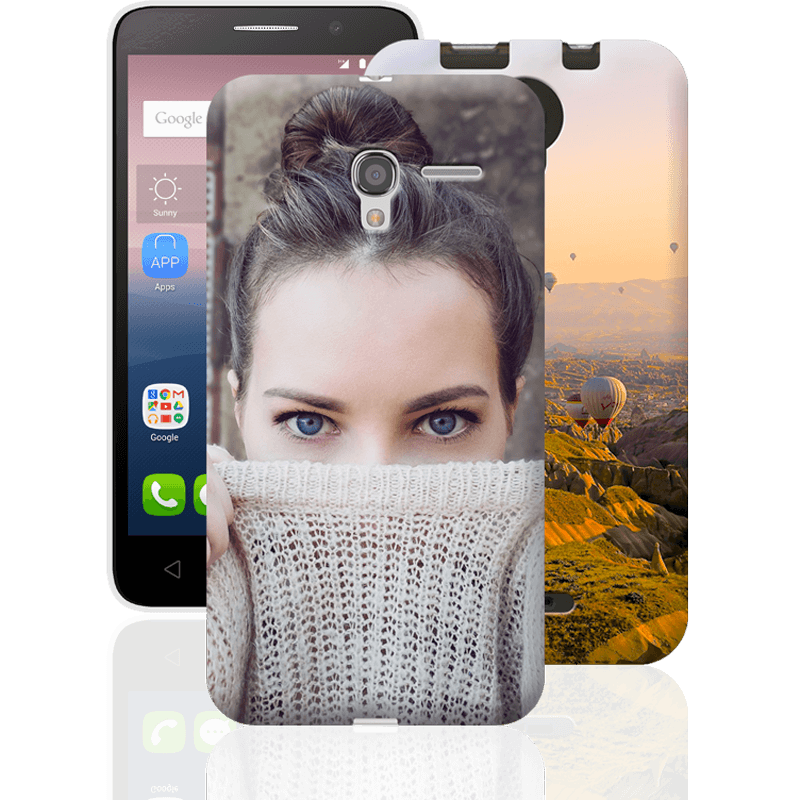 Create Alcatel custom cases for your smartphone!
Creating Alcatel custom cases is easy and intuitive: just follow these simple steps of our online application:
Click on the main menu item > CREATE CASE;
Select the Alcatel brand from the list;
Select the model of your Alcatel phone;
Upload a photo from your computer or from social networks;
Position the image as you prefer;
...and the case will be ready to be shipped directly to your home within 72 hours!
Custom Alcatel Cases:
Details make difference
Alcatel case: elegance and style!
Our Alcatel custom cases are perfect to protect your smartphone from bumps: in fact, the hard silicone casing adheres perfectly to your phone, protecting the side edges as well as lending protection to the frontal part. This means that you can place the phone with the screen side down without it being ruined through the contact with other surfaces.

Moreover, the Alcatel custom cases are made with high quality photographic print that guaranteesMoreover, all our Alcatel custom cases feature a high-quality photographic print that guarantees bright, resistant and long-lasting colors.
Alcatel custom cases: a great gift idea!
If you are looking for an idea for an original gift and something that you are sure nobody else has thought of, here is the Alcatel custom case: suitable for every occasion, perfect for surprising someone in a simple and creative way. A gift idea, appreciated because it is customisable, truly suited to everyone!
COLLABORATE WITH PERSONALIZZALO
If you are a sector professional or a retailer, and you are interested in offering a mobile phone case or accessory customization service in your store, CONTACT US by using the dedicated form, entering all the necessary information. Our staff will contact you as soon as possible to give you all the necessary information.
On Personalizzalo you can create... ARTISTIC CASES!
Selected Italian artists have created a series of original, unique and exclusive graphics with which to customize your cases! Visit the artist area and discover the image gallery, where you can choose your favourite image!
You can also create the Alcatel brand:
Alcatel 3C case | Alcatel Pixi 4 4.0 case | Alcatel U5 case | Alcatel Pixi 4 (6) 3G case | Alcatel Pixi 4 (5) case | Alcatel Idol 3 (4.7) case | Alcatel Idol 3 (5.5) case | Alcatel Pop 3 (5) case | Alcatel Pop 3 (5.5) case | Alcatel Pixi 4 (5) case | Alcatel Pixi 4 (6) case | Alcatel Pop C9 case | Alcatel Idol X+ case | Alcatel Idol 2 case | Alcatel Pop S3 case | Alcatel One touch scribe HD case | Alcatel One touch XPop case | Alcatel One touch MPop case | Alcatel One touch TPop case | Alcatel One touch idol case | Alcatel One touch star case | Alcatel One touch idol X case | Alcatel One touch idol Alpha case | Alcatel One touch Pop C1 case | Alcatel One Touch Pop C3 case | Alcatel One touch Pop C5 case | Alcatel One touch Pop C7 case | Alcatel U5 case | Alcatel U5 3G case