Create your custom Samsung S10 cases

Are you looking for a Galaxy S10 case, but you want an original style or something really unique? Nothing could be easier. With Personalizzalo you are the artist! You don't have to look for a style that identifies you, you can create it yourself!
Creating your customised case for Samsung Galaxy S10 is very easy
, just click on the
START CREATING
button and choose the CASES icon, then select the SAMSUNG brand and lastly your smartphone model, GALAXY S10. Now you are ready to create your case.
Thanks to our configurator you can upload an image from your PC or smartphone and position it directly on the case. You can rotate it, resize it and even add background colours and text.
If you don't know what image to put on your custom case, let yourself be inspired by our
young artists
. You will find lots of original designs created especially for you!
Creating custom Galaxy S10 cases has never been so easy... start straight away!
HOW ARE OUR CUSTOMIZED GALAXY S10 CASES MADE?
watch the videos and discover our quality products
SOFT GALAXY S10 CASE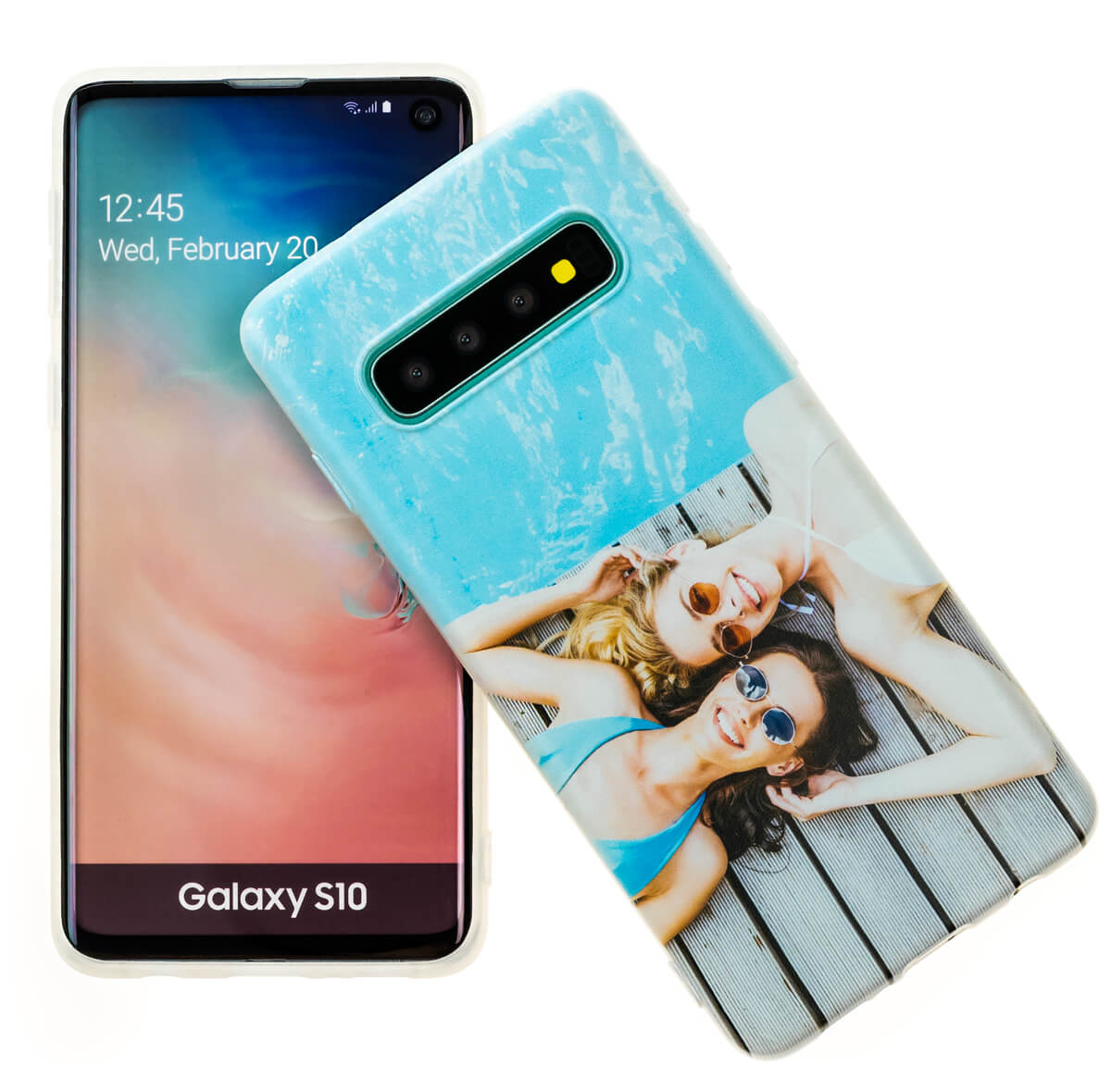 PROTECTIVE
Indestructible and practical, Personalizzalo's soft silicone case for the Samsung Galaxy S10 is 1 mm thick, an ideal compromise between style and protection. In fact the Samsung Galaxy S10 silicone case reduces the risk of breaking your smartphone by 90%!
RESISTANT
Resistant, practical and functional... and more. The exceptional print quality of the TPU case for S10 guarantees an incredibly long-lasting image!
SURPRISING
Slim and very practical, an ideal solution for everyday use. The high-resolution printing renders bright colours and clear images, your case will amaze everyone!
SAMSUNG GALAXY S10 BOOK CASE
CONVENIENT
Made in eco-leather, the book-style case by Personalizzalo has been created for those who want to protect their mobile phone from scratches and falls. It is possible to open the book-style case and use it as a support for your smartphone.
HIGHLY PROTECTIVE
The case surrounds the telephone with a silicone shell and has an eco-leather cover which completely protects the device, reducing the risk of breakages by 95%. All of the functions and ports, as well as the camera, are available.
ELEGANT
The exceptional quality of the high definition printing process, which guarantees long-lasting results, makes the elegant eco-leather cover special.
Galaxy S10 case, an original gift idea
Are you looking for an original gift, rather than the usual throwaway object? You've come to the right website! With Personalizzalo you can create lots of custom cases with your favourite photograph or image. It takes just a few minutes to create the perfect gift. Start creating custom cases straight away!
As well as custom S10 case
With Personalizzalo you can create lots of other custom cases for Samsung and other brands. Open our generator and look for the case suitable for your smartphone, tablet or MacBook. And that's not all... discover how to create the brand new
MINI ME
, lots of fun characters which can be customised with your face.