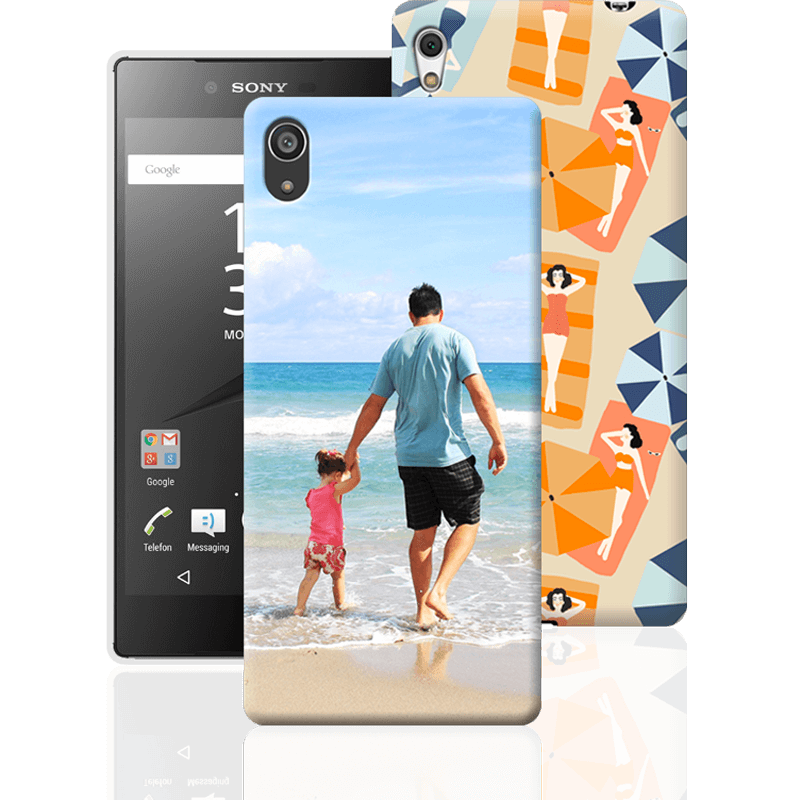 Create custom Sony Xperia case for your smartphone!
Custom Sony Xperia cases...with Personalizzalo! Create glamorous and unique cases for your smartphone! How can you do it? It's very simple:
Click on the main menu item > CREATE COVER;
Select the Sony brand from the list;
Select the model of your Sony Xperia;
Upload your favorite photo from your computer or from social networks;
Position it as you like on the case;
...and the case will be ready to be shipped directly to your home within 72 hours!
Custom Sony Xperia Cases:
Details make difference
Elegance and protection with our cases!
A custom Sony Xperia case is perfect to protect your smartphone from bumps and scratches: adheres perfectly to your phone, protecting not only its back but also its edges and a small frontal part, which allows you to place your smartphone screen-side down without risking to damage it through the contact with other surfaces.

The customized Sony Xperia cases, once in place on your phone, allow its full use of the phone: they're equipped with outlets for the charger and aux outputs, and their shape allows you to use the side buttons while still protecting them from dust.
Custom Sony Xperia case: a unique gift idea!
A custom Sony Xperia case is also an original gift idea for any occasion. Start now to create a customized case for your Sony smartphone!
COLLABORATE WITH PERSONALIZZALO
If you are a sector professional or a retailer, and you are interested in offering a mobile phone case or accessory customization service in your store, CONTACT US by using the dedicated form, entering all the necessary information. Our staff will contact you as soon as possible to give you all the necessary information.
On Personalizzalo you can create... ARTISTIC CASES!
Selected Italian artists have created a series of original, unique and exclusive graphics with which to customize your cases! Visit the artist area and discover the image gallery, where you can choose your favourite image!
You can also create the Apple brand:
Xperia 1 ii case | Xperia 10 ii case | Xperia XA3 case | Xperia XA3 Ultra case | Sony Xperia L3 case | Sony Xperia XZ4 case | Sony Xperia L1 case | Sony Xperia XZ case | Sony Xperia X Compact case | Sony Xperia XA case | Sony Xperia X case | Sony Xperia XA ultra case | Sony Xperia E5 case | Sony Xperia C4 case | Sony Xperia Z4 mini case | Sony Xperia M5 case case | Sony Xperia Z5 compact case | Sony Xperia Z5 case | Sony Xperia Z5 premium case | Sony Xperia Z4 case | Sony Xperia E4 case | Sony Xperia E4g case | Sony Xperia M4 aqua case | Sony Xperia T3 case | Sony Xperia Z3 compact case | Sony Xperia Z3 case | Sony Xperia E3 case | Sony Xperia Z1 compact case | Sony Xperia T2 ultra case | Sony Xperia E1 case | Sony Xperia Z2 case | Sony Xperia M2 case case | Sony Xperia S case | Sony Xperia P case | Sony Xperia U case | Sony Xperia T case | Sony Xperia Arc case | Sony Xperia J case | Sony Xperia V case | Sony Xperia E case | cover Sony Xperia Z case | Sony Xperia SP case | Sony Xperia L case | Sony Xperia ZR case | Sony Xperia M case | Sony Xperia C case | Sony Xperia Z1 case | Sony XZ2case | Sony XZ2 Compactcase | Sony Xperia XA2 case | Sony Xperia XA1case