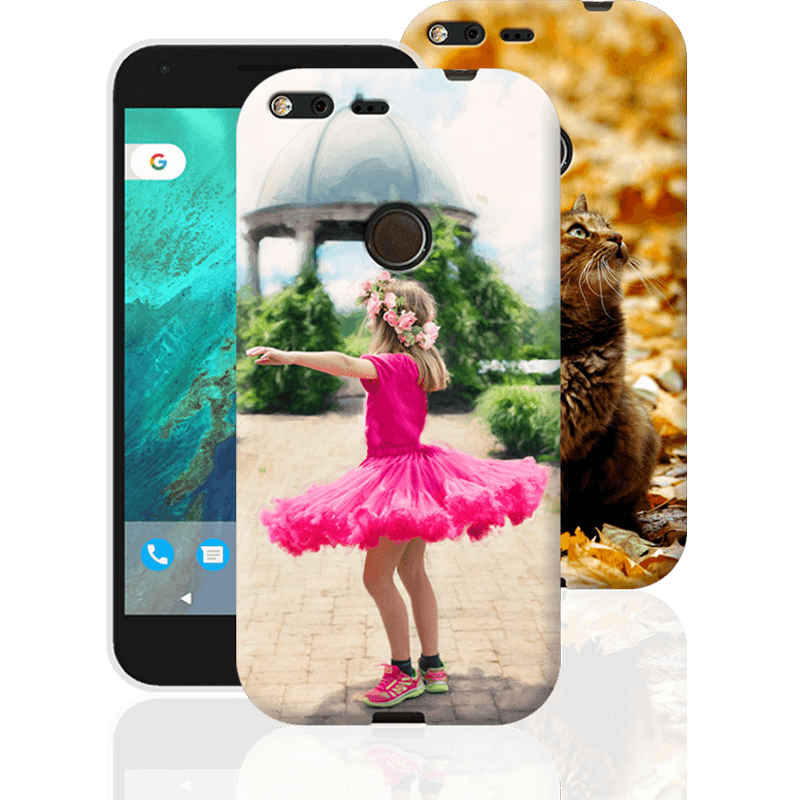 Create custom cases Google phone for your smartphone!
Do you want an original idea for your new Google smartphone? Then Personalizzalo is what you are looking for! Your Google Pixel case will be "worn" by your smartphone, surprising everyone who sees it! Thanks to our simple online application, in just a few minutes, you can create a fantastic case with your favourite image for your Google device.

Here is the possibility to make your phone one of a kind! To have an exclusive Google Pixel case, you can use your photo or your favourite image. The steps, indicated in the intuitive application are simple and quick:
Select the brand 'Google' from the options available;
Upload a photo from your album (for example, from your computer) or choose an original graphic in our artist's gallery;
Position the image as you would like it on the case template;
... and your new creation is ready!
The custom Google Pixel case will be delivered to your home, or to whomever you choose, within 72 hours!
Custom Goolge Cases:
Details make difference
Elegance and protection with our cases!
Rigid 3D case: is the Glossy or Matte effect for you? The original and custom Google Pixel cases are also available in a variety of levels of rigidity with 3D printing which entirely covers the sides. The rigid cases are available in an ultra-bright Glossy effect or in a sophisticated, silky matte version. Very light and thin, they protect your Google Pixel with grace and originality.

If protection is not enough and you are also looking for elegance, take a look at the Leather Cases.
Custom cases Google phone: an original gift idea!
The new Personalizzalo offerings are also original and unique gift ideas, suitable for every occasion such as anniversaries, birthdays, holidays, name days, etc.! Immediately start to customise the appearance of your smartphone! Custom cases Google phone, one for every occasion and taste!
COLLABORATE WITH PERSONALIZZALO
If you are a sector professional or a retailer, and you are interested in offering a mobile phone case or accessory customization service in your store, CONTACT US by using the dedicated form, entering all the necessary information. Our staff will contact you as soon as possible to give you all the necessary information.
On Personalizzalo you can create... ARTISTIC CASES!
Selected Italian artists have created a series of original, unique and exclusive graphics with which to customize your cases! Visit the artist area and discover the image gallery, where you can choose your favourite image!
You can also create the Google brand:
Google Pixel 4a 5G case | Google Pixel 4a case | Google Pixel 3 2020 case | Google Pixel 4 case | Google Pixel 4XL case | Google Pixel 3XL case | Google Pixel 3 case | Google Pixel 2XL case | Google Pixel 2 case | Google Pixel XL case | Google Pixel case