Create an original case for iPhone X in a few, simple clicks!

With Personalizzalo, you can create custom iPhone X cases by following a few simple steps:
Click on the CUSTOMIZE YOUR CASE button and choose the APPLE logo;
Choose the iPhone X model from the iPhone models available;
Choose the type of iPhone X case that you want to customize;
Upload the photo you prefer from your computer or smartphone, or choose an image from our artist's gallery;
Position the photo as you want on the outline of the cover;
Finish the order and wait just 72 hours!
See how easy it is? So, start creating your customized iPhone X case straight away.
HOW ARE OUR CUSTOMIZED IPHONE X COVERS MADE?
watch the videos and discover our quality products
SOFT IPHONE X CASE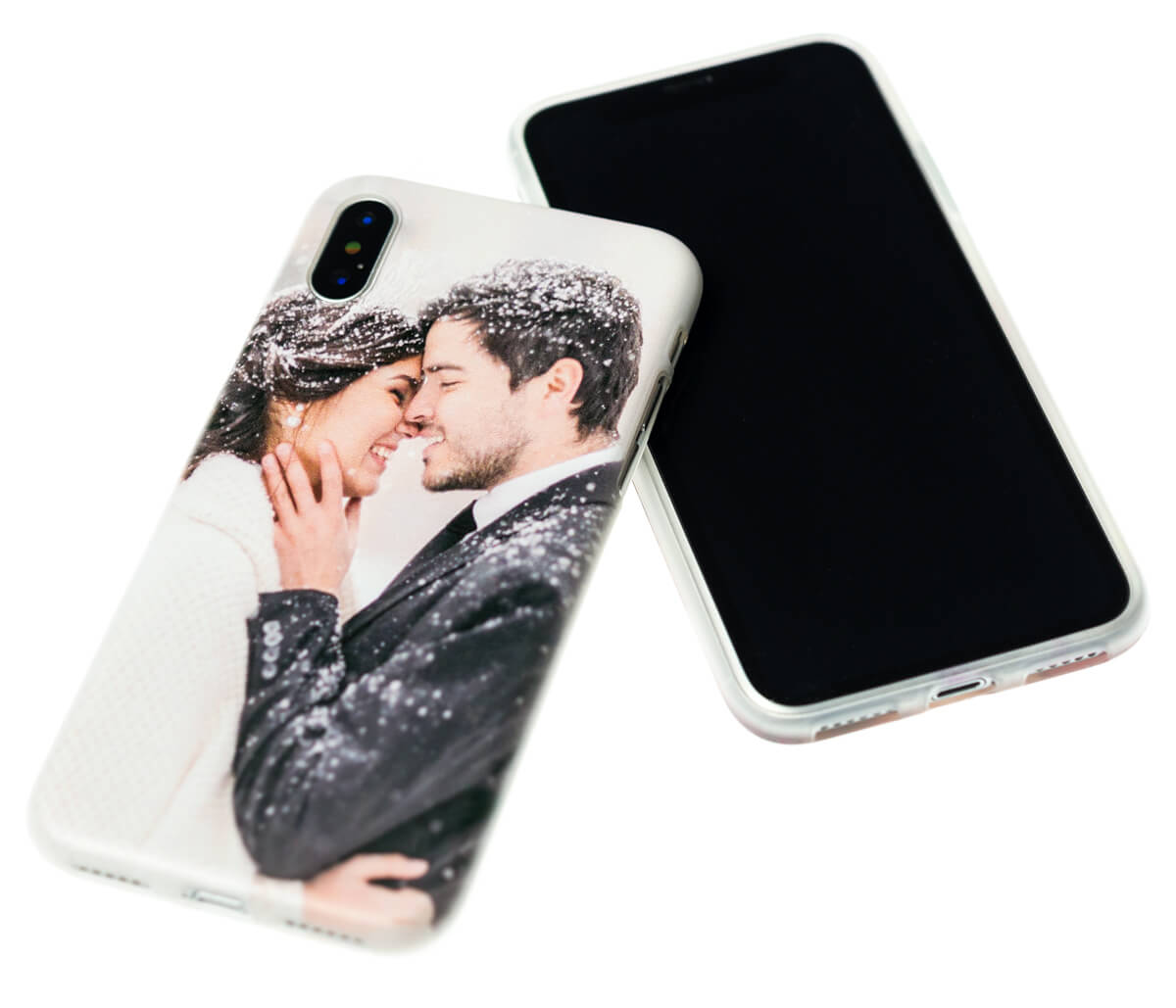 PROTECTIVE
Transparent custom case in silicone for iPhone X. A silicone case which is really easy to put on to your Apple smartphone, offering exceptional grip, which will make your phone easier to handle, reducing the possibility of it being dropped by 90%.
RESISTANT
Resistant, practical and functional. The exceptional print quality guarantees that the image will last for an incredibly long time.
SURPRISING
Slim and very practical, an ideal solution for everyday use. The incredible rendering of colours offered by the high-resolution printing process will amaze everyone.
RIGID GLOSSY IPHONE X CASE
SHINY
A rigid case with a glossy surface. Thanks to the exceptional quality of the high-definition printing process, colours are incredibly bright!
THREE-DIMENSIONAL
The image is also printed on the sides, covering the entire visible surface of the case.
SAFE
It reduces the risk of breaking your telephone by 80%, thanks to its rigid border which also protects the sides of the smartphone.
HARD-SHELL MATT IPHONE X CASE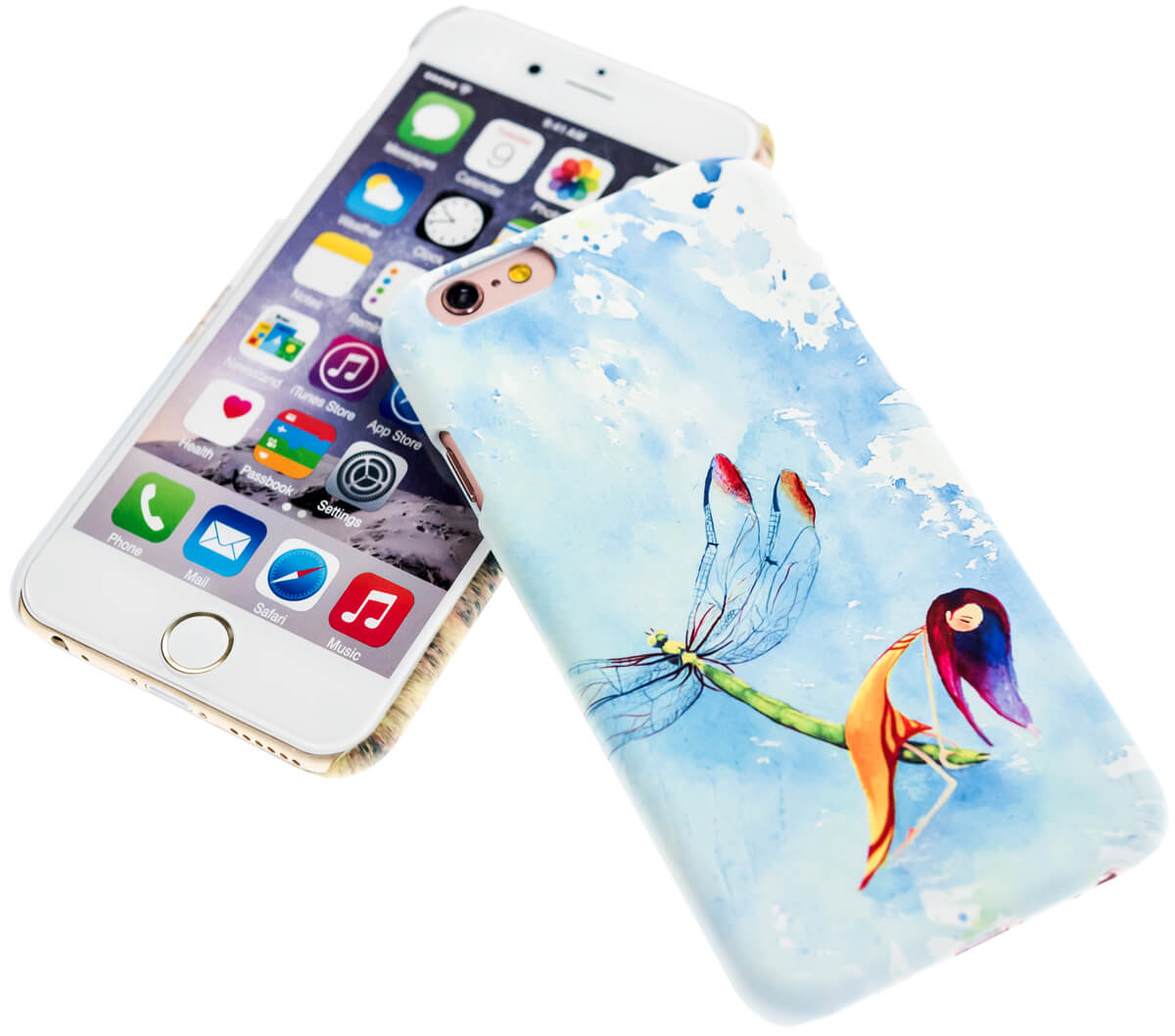 SILKY
Hard cover with matte surface, silky to the eye and to the touch, with an exceptional print quality that enhances the intense colors and pastel shades.
THREE-DIMENSIONAL
The image is also printed on the sides, covering the entire visible surface of the cover.
PROTECTIVE
Reduces the risk of breaking your phone by 80%, thanks to its hard edges that also protect the sides of the smartphone.
IPHONE X BOOK-STYLE CASE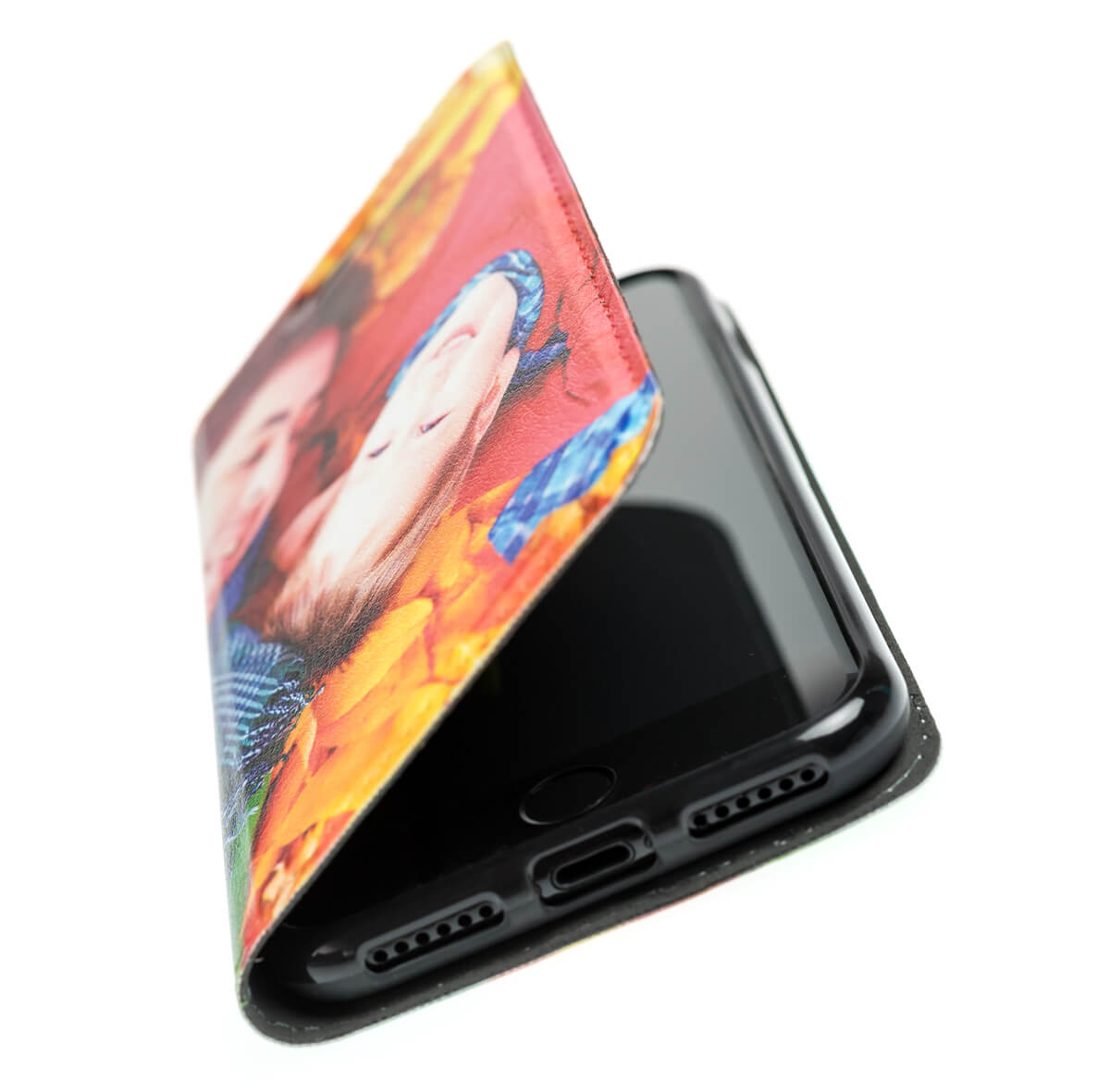 CONVENIENT
Super-practical and versatile. The iPhone XS book-style case has a tongue-free magnetic closure. It can be folded and used as a support to keep the telephone upright in order to watch multimedia content. It also has a handy space inside for cards.
HIGHLY PROTECTIVE
It reduces the risk of breakages by 95%. The case surrounds the telephone with a silicone shell and has an eco-leather cover which completely protects the device.
ELEGANT
The exceptional quality of the high-definition printing process, which is guaranteed to be long-lasting, makes the elegant eco-leather cover special.
RIGID PRO IPHONE X CASE
DOUBLE PROTECTION
Thanks to its double protection, the rigid pro case reduces by 95% the risks of damage of your smartphone: The rigid pro case is a rigid case internally equipped with a caoutchouc protection, which absorbs shocks and protects the surface of your phone against scratches, doubling the resistance of your case.
GLOSSY
The rigid pro case is covered with a glossy surface, which makes your smartphone more aesthetic and elegant: similar to a photographic print, the printed image will look brilliant and tridimensional, even after an intense use.
HIGH QUALITY
This case is created with high quality materials and with attention to detail: the case is equipped with holes perfectly corresponding to smartphone ports to allow you to charge your phone and use your headphones, keeping your case. Moreover, you can always use your smartphone camera and you will be able to take any picture at any moment while keeping your smartphone safe.
CLEAR IPHONE X CASE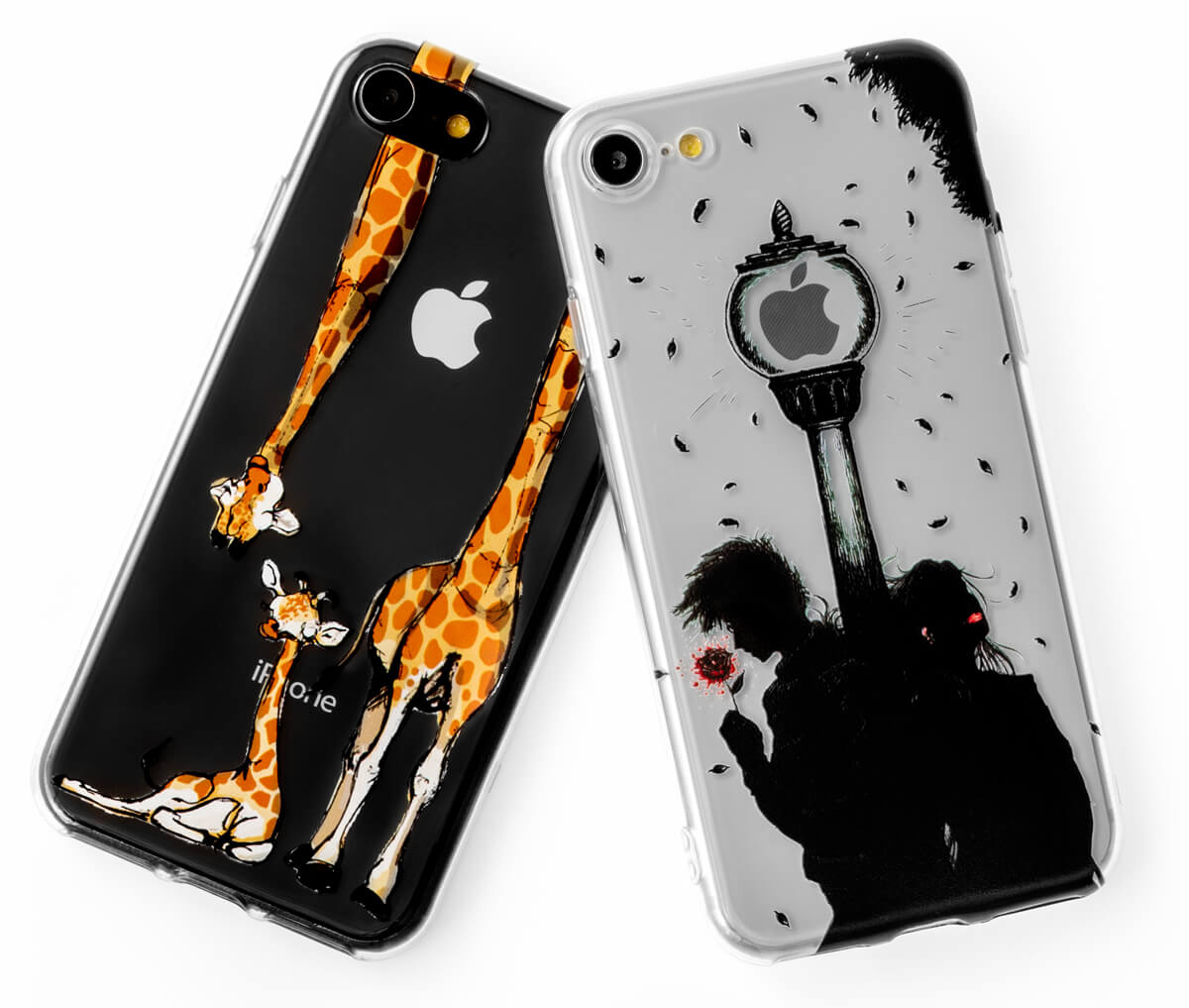 LIGHT
The clear iPhone X case leaves the body and edges of your iPhone totally visible. Designed to remain transparent, unlike a lot of other similar cases, it will not yellow over time!
SOFT
A case made from innovative TPU silicone, a perfect material because it is waterproof, elastic and durable. What is special about the clear case? It is pleasant and soft to the touch.
ULTRA SLIM
Perfect for discretely protecting your iPhone, the clear case is also extremely light and slim: thanks to a thickness of just 1 mm, you won't even notice it in your pocket!
Custom iPhone X Cases, a fantastic gift idea!
A customized iPhone X case can be an original gift idea, which will amaze whoever receives it. Friends, colleagues, relatives or your partner: receiving a gift created specially by you will leave them speechless. 

If you are short of ideas, and you don't know what image to use for this personalized gift, you can take a look at our artists' area. We have chosen a series of exclusive graphics for you, created by young Italian artists, to customize your cover and make your gift even more precious. What are you waiting for? Start creating your customized iPhone X case straight away!
Customized iPhone X Cases: protection and quality
We know how important it is to protect your device: this is why we want to offer our customers only high-quality products, made with the care and attention of a truly all-Italian item. The materials chosen for the cases, and the inks which we use for printing, guarantee excellent results and a long-lasting product. We also offer a service for the handling of the order and shipping of the goods which guarantees worldwide delivery within 72 hours. 

If you are a sector professional or a retailer, and you are interested in offering a mobile phone case or accessory customization service in your store,
CONTACT US
by using the dedicated form, entering all the necessary information. Our staff will contact you as soon as possible to give you all the necessary information.
iPhone X cases with photos
There are no more limits to your creativity! On Personalizzalo, you can have fun creating custom iPhone X cases in a really simple way, experimenting with various configurations, thanks to the intuitive online application at your disposal. All you need to do is upload the photo from your computer or iPhone and first of all, position it as you prefer on the cover outline. Once this is done, you can add text, images, create a mosaic or apply filters, in order to render your iPhone X cover even more special. 

For the best results, we recommend you upload an image which is at least 1500 pixels in length. If instead you want to customize other, larger objects available from our store, like, for example, MacBook cases or agendas, choose an image which measures at least 2500 pixels in length.
An iPhone X case with a photo... by an artist!
If you are looking for inspiration in creating your custom iPhone X case, you can access our
ARTISTS' AREA
: you will find an extensive GALLERY of images created exclusively for Personalizzalo by selected young Italian artists. By choosing one of the images created by our artists, you can make your iPhone X case even more special, giving it a truly unique and elegant look. 

 What are you waiting for? Start browsing the gallery right away, and find the image which best represents your personality: you will find floral patterns, funny cartoons, breath-taking photos and much much more!