Create your custom Samsung S10e case.

Are you looking for a
custom Samsung Galaxy S10e case
, but you want something original with a really unique style? You've come to the right website! With Personalizzalo, creating your new custom S10e case has never been easier, just follow these simple steps:
click on the START CREATING button and select CASES;
choose the brand and model of your smartphone (SAMSUNG S10e);
choose the type of case you want to create from those available;
upload your favourite photo from your computer or smartphone, or choose a design from the Personalizzalo Artists Area;
position the image as you prefer and, if you want, add text or coloured backgrounds;
order your custom case and in 72 hours it will be delivered to your home!
HOW ARE OUR CUSTOMIZED GALAXY S10e COVERS MADE?
watch the videos and discover our quality products
SOFT GALAXY S10E CASE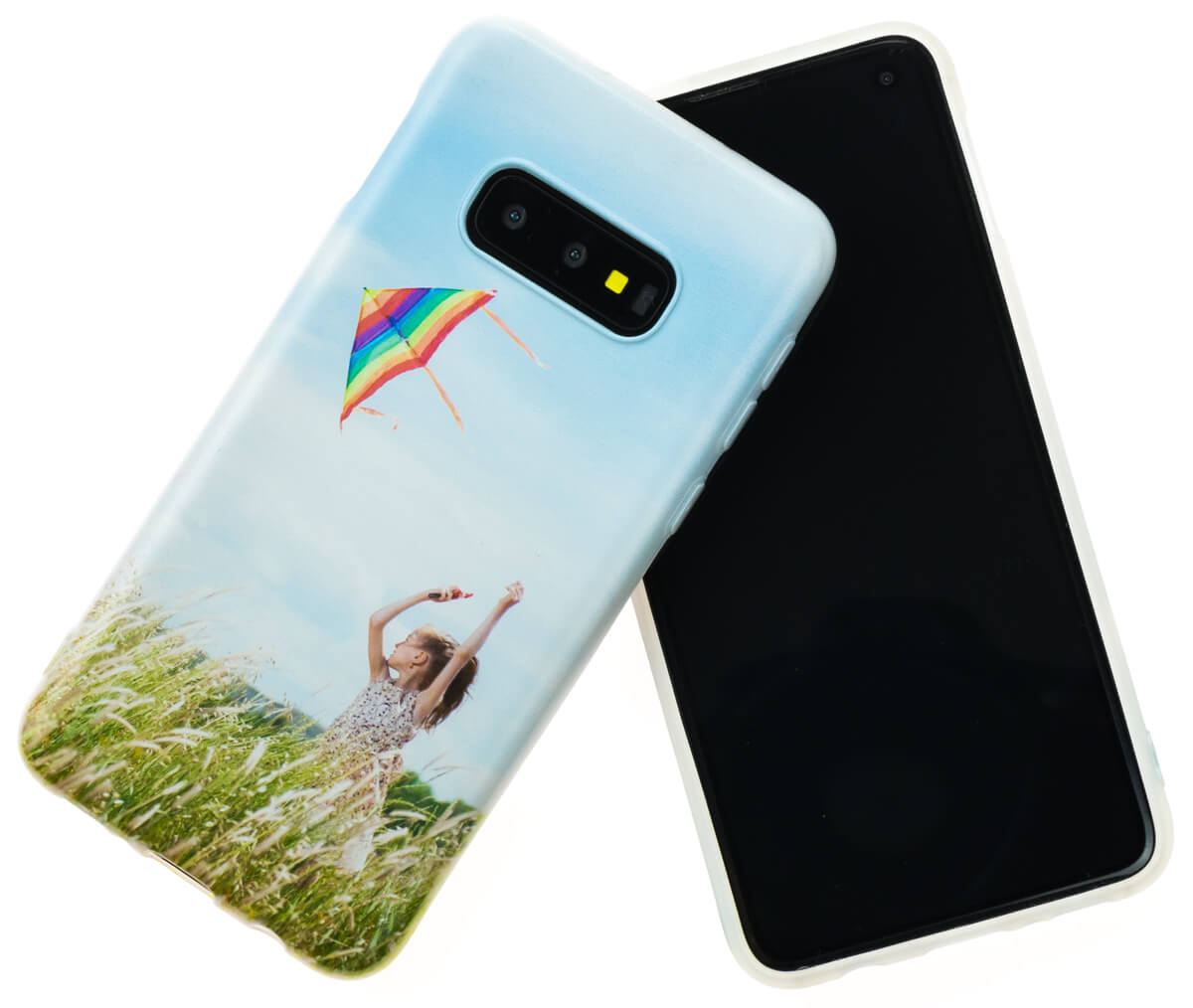 PROTECTIVE
Personalizzalo's soft silicone case has a front thickness of just 1 mm that allows your smartphone to be slightly distanced from the surface on which it is placed, drastically reducing the risk of scratches on the screen. The Samsung S10e silicone cover is also supplied with a grip covering which will help you to handle the phone, reducing the risk of it being dropped by 90%.
RESISTANT
Thanks to our innovative printing method, the image on the silicone Samsung Galaxy S10e case will still be bright even after intense use.
SURPRISING
Maximum practicality is the keyword for the silicone Samsung S10e case: thanks to its reduced thickness, it is the ideal solution for everyday use. Your new case in TPU will leave everyone amazed!
SAMSUNG GALAXY S10e BOOK-STYLE CASES
CONVENIENT
Made in eco-leather, the book-style case by Personalizzalo has been created for those who want to protect their mobile phone from scratches and falls. It is possible to open the book-style case and use it as a support for your smartphone.
HIGHLY PROTECTIVE
The case surrounds the telephone with a silicone shell and has an eco-leather cover which completely protects the device, reducing the risk of breakages by 95%. All of the functions and ports, as well as the camera, are available.
ELEGANT
The exceptional quality of the high definition printing process, which guarantees long-lasting results, makes the elegant eco-leather cover special.
Galaxy S10e case, an original gift idea
Are you looking for an original gift which stands out from the mass of useless items which are always the same? You've come to the right website! With Personalizzalo you can create lots of custom cases with your favourite photograph or image. All you need is a few minutes to create the special gift you've been looking for. Start creating custom cases straight away!
As well as custom S10e case
With more than 20 smartphone brands and hundreds of models available, Personalizzalo is the leading website for custom cases. And that's not all! Now you can also customise clothing: sweatshirts and t-shirts for men, women and children, choosing from a wide range of colours and models.