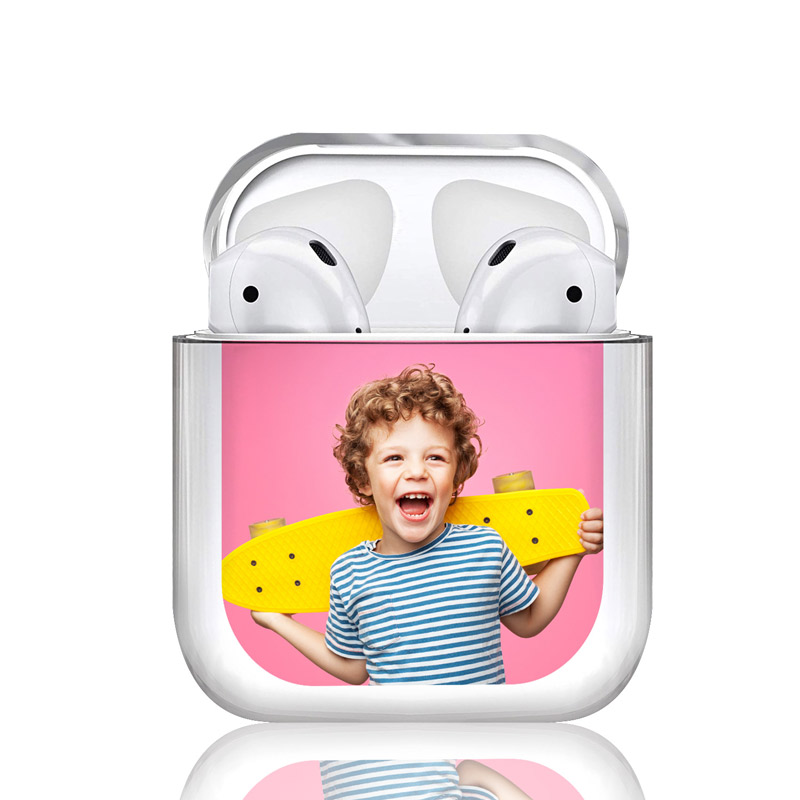 THE CUSTOM AIRPODS CASE YOU HAVE ALWAYS DREAMED OF!
Have you always wanted to enhance your AirPods charging case with style, but have never managed to find a case that really satisfies you? Personalizzalo has the right solution for you: the
custom AirPods case
! With our configurator you can render your AirPods charging case unique. There are only a
few
,
brief
steps to follow:
Click on "Create" and then on "case".
Look for the Apple brand or use the search bar directly.
Upload your photo from a PC or smartphone or choose an image from the Artists' Gallery.
Decide whether to add backgrounds or text.
Complete the order and in just 3 working days you will receive your custom AirPods case!
HOW ARE OUR CUSTOM APPLE AIRPODS CASES MADE?
Personalizzalo gives you a single model of AirPods custom cover, the most practical and resistant cover you can find on the market. Built with a special plastic, often found in tech industries for its thermo-resistant properties, this cover follows precisely the lines of the AirPods case. A cover modeled with such precision you won't even feel it in your pocket!
RIGID AIRPODS CASES
HIGH QUALITY
Our custom AirPods cases are printed in high definition and high quality, and the image does not fade, even after extensive use. Printed on both the front and back, the image is bright and silky to the touch.
PERFECT FIT
The custom AirPods case has been made specifically to fit perfectly to the AirPods charging case and cover it entirely and has holes to make opening and cable charging easier.
INDESTRUCTIBLE
Our custom AirPods cases are made in thick and resistant plastic that provides excellent protection. Scratchproof, its transparent effect is a perfect frame for your beautiful photos!
GIFT IDEAS? A CUSTOM AIRPODS CASE!
Do you want to give a special gift to your nearest and dearest, but you don't know what to buy? What about a custom AirPods case? It will be a personal and heartfelt gift, and they are sure to appreciate it! As well as a photo, you can also add a Spotify Code, which when scanned, will play a song, or redirect to an artist or a specific playlist! Furthermore, you don't have to pick it up, thanks to the home delivery service.
CUSTOM AIRPODS CASES... AND THAT'S NOT ALL!
Have you created your beautiful custom AirPods case, but still want to be creative? Personalizzalo offers you its wide-ranging catalogue: cases for iPhones or smartphones, cases for iPads, tablets or MacBooks, or even customised t-shirts for men, women and children. You can even create fun MINI-MEs, with hundreds of base models to start from. What are you waiting for? Let your creativity run wild with our configurator!