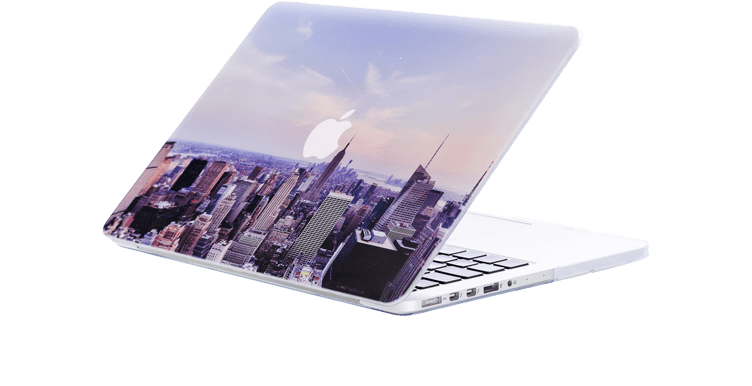 PERSONALISED 15 MACBOOK PRO RETINA SKIN
Create your custom MacBook Pro 15 Retina case in just a few simple clicks!
With Personalizzalo, you can create skins for MacBook Pro 15 retina in seconds and in comfort. Follow the steps indicated in the wizard: with the application of our website, the case for your MacBook will be visible in preview and will be immediately ready to ship! Delivered direct to your door or to whomever you choose, within only 72 hours! Getting started is very simple:
click on the menu item CREATE SKIN;
choose your model of 15 MacBook Pro Retina;
upload the photo you want to print on your new case, taking it from your device, from your social albums or from our Artists Area;
position it the way you like on the template and admire the result!
The personalised MacBook Pro 15 retina skin as you want it is finally a reality!
Custom MacBook Pro 15 Retina Cases:
Details make difference
Elegance and protection with our cases!
The personalised 15" MacBook Pro retina skins are unique in the world. The quality and resistant cases created by Personalizzalo for your modern Apple computer are embellished by significant images you have chosen: vivid and bright, the fantasies you have chosen almost come to life thanks to the innovative printing technique used.

High definition images and bright colours that don't fade over time: a lasting and protected impression with your personalised 15" MacBook Pro retina skin. The structure of the cases is light, elegant and minimal: in short, in line with the shape of your MacBook.

Due to their ultra-slim design, the Personalizzalo 15" MacBook Pro retina cases are extremely functional: complete use of the device is, in fact, also guaranteed even when these are fitted; you will hardly even notice you've covered your computer!
Personalised MacBook Pro 15 Retina case, a great gift idea!
Such an original accessory is also a great gift idea!

The personalised 15" MacBook Pro retina skins are the unexpected and appreciated gift for any fond owner of a MacBook: suitable for every occasion, useful and unusual! With Personalizzalo you can say goodbye to looking at gifts over and over again and you don't even need to leave the house to look for them: an Internet connection, a few minutes and the desire to impress are the ingredients you need to create a personalised MacBook Pro 15 retina skin to give to whomever you want!

What are you waiting for? Start now to create your personalised MacBook case! Have it sent directly to the home of the lucky recipient!
In addition to the MacBook PRO 15 retina case, you can also customize:
MacBook Pro 16 (A2141) case | MacBook Pro 15 (A1286) case | MacBook Pro Retina 15 (A1398) case | MacBook Pro 15 touch bar (A1707 A1902 A1990) case | MacBook Air 13.3 2018 2020 (A1932 A2179) case | MacBook Air 13 (A1369 A1466) case | MacBook Pro 13 (A1278) case | MacBook Pro Retina 13 (A1425 A1502) case | MacBook Pro 13 versione 2016 touch bas (A1708 A1706 A1989 A2159) case | MacBook 12 (A1534) case | MacBook Air 11 (A1370 A1465) case