Create your custom iPhone 12 Pro Max case

Protecting your iPhone is an excellent move and turning it into an original and unique object is a fantastic idea! With Personalizzalo,
you can create
all the
custom iPhone 12 Pro Max cases
you want and decorate your iPhone with images that are special for you. Creating a case is really easy. It just takes a few clicks and an internet connection. Here's how:
Click on "Create" in the menu at the top of the screen and choose the option "Case".
Choose the brand and model of your smartphone.
Upload an image from your device or choose one from our Artists' Gallery.
Use our configurator to modify the image.
That's it, you will receive your case in just 72 hours!
HOW ARE OUR CUSTOMIZED IPHONE 12 PRO MAX COVERS MADE?
watch the videos and discover our quality products
SOFT IPHONE 12 PRO MAX CASES
PROTECTIVE
This type of iPhone 12 Pro Max custom case has been designed to protect your iPhone without making it any heavier. Classic and traditional, the soft case is made with a raised border, which protects the display, and a grip coating.
RESISTANT
Custom iPhone 12 Pro Max cases are made from special TPU silicone, a new generation material that guarantees the utmost protection against scratches. Your printed image will last for a long time, even after intense use!
SURPRISING
Amaze yourself with the incredible clarity of details on the custom iPhone 12 Pro Max case! These soft cases have precision-cut holes that align with the buttons, and the print quality is amazing!
WALLET IPHONE 12 PRO MAX CASE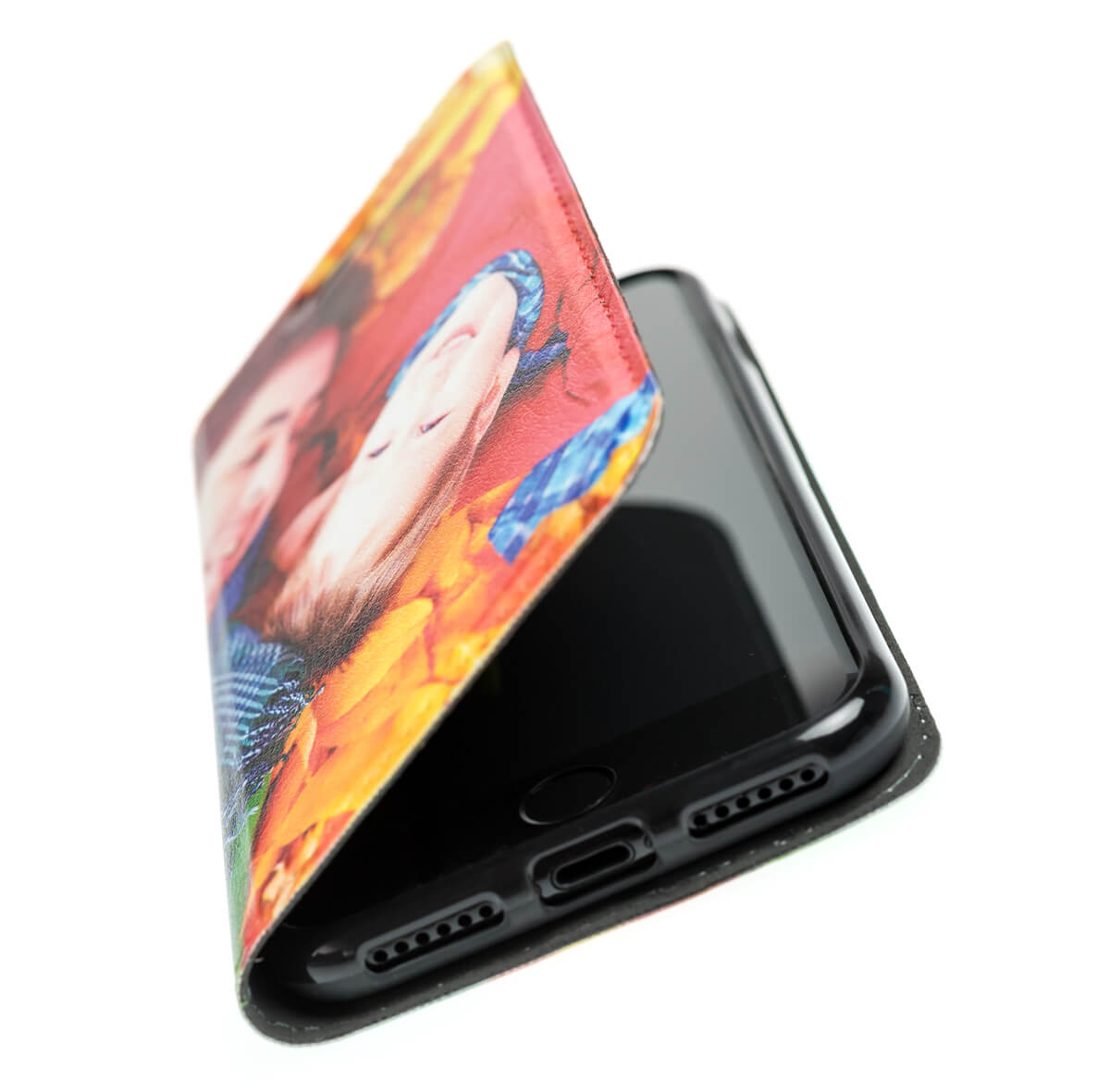 CONVENIENT
Book-style custom iPhone 12 Pro Max cases are elegant and extremely versatile. Not only do they protect your iPhone, but they also include a card holder and can be folded and used as a stand for watching videos!
HIGHLY PROTECTIVE
The book-style case encloses your device in a silicone shell, while the glass is protected by an eco-leather cover. Custom cases for iPhone 12 Pro Max reduce the risk of breakages by 95%!
ELEGANT
Our innovative printing technique allows for the printing of bright, sharp images and exalts pastel shades. Custom iPhone 12 Pro Max cases are elegant and exclusive!
Custom iPhone 12 Pro Max case: a fantastic gift idea
Do you have to give a gift but are out of time and ideas? How about a custom iPhone 12 Pro Max case? You can print a photo of a special occasion or a special phrase for the recipient, and give a useful and original case for Christmas, a birthday, Valentine's day, a name day or for any other occasion... it will be a guaranteed hit! Have a go at creating your gift case right away, you can even have it delivered directly to the recipient's home!
Not only custom iPhone 12 Pro Max case
Personalizzalo's configurator is an easy to use and highly efficient instrument, and this is why we have decided to make it completely available to you! If you follow our procedure for creating custom cases for the iPhone 12 Pro Max, you will see its full potential. Create cases for more than 700 models of smartphone, for MacBooks, iPads and tablets, custom clothing in all sizes, shopping bags and fantastic MINI-MEs!