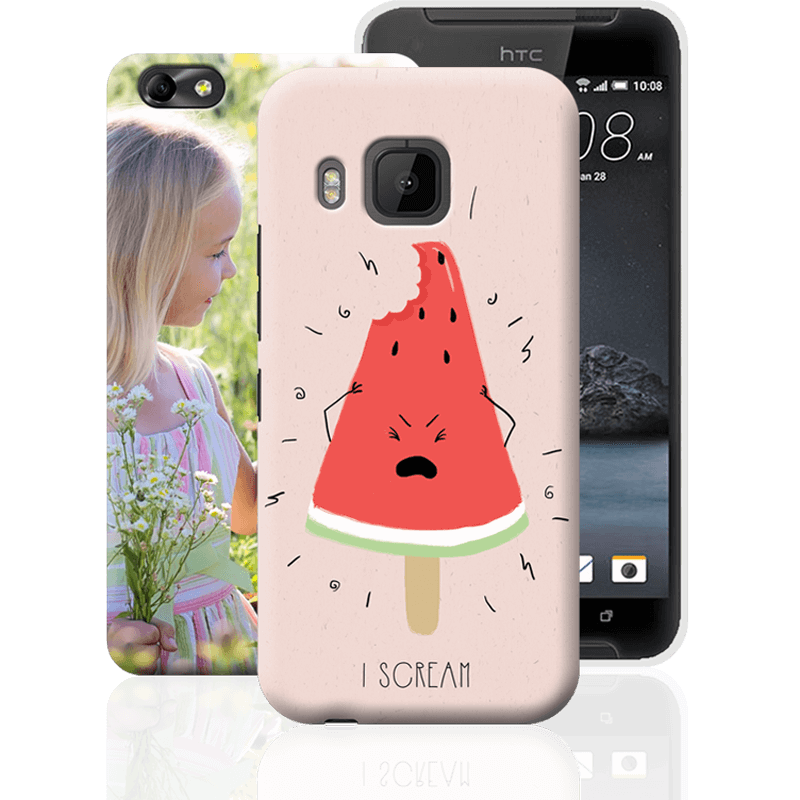 Create a unique custom HTC case!
Thanks to Personalizzalo, it's easy to create custom HTC cases: in a few steps, you can customize your smartphone with your favorite photo! Choose your HTC smartphone model, and then:
Upload the photo you want from your computer or directly from social networks (Facebook and Instagram);
Use our simple application to position your photos the way you want on the case;
And your case will be ready to be shipped to your home within 72 hours!
Custom HTC Cases:
Details make difference
Protect your smartphone with elegance and style!
A custom HTC case is perfect to protect your smartphone from bumps and scratches: it adheres to your phone impeccably, even protecting its sides in addition to its front. This lets you set your phone screen-side down without damaging it.

The customized HTC cases, once in place on your phone, allow complete use of the phone: they're equipped with outlets for the charger and aux attachment, and their shape allows you to use the side buttons while protecting them from dust. The custom HTC cases are manufactured with an innovative printing process that guarantees bright colors that are resilient over time and use.
Custom HTC cases: a great gift idea!
Custom HTC cases are a perfect gift for any occasion: birthdays, anniversaries, etc. Impress everyone with a unique and original present!
COLLABORATE WITH PERSONALIZZALO
If you are a sector professional or a retailer, and you are interested in offering a mobile phone case or accessory customization service in your store, CONTACT US by using the dedicated form, entering all the necessary information. Our staff will contact you as soon as possible to give you all the necessary information.
On Personalizzalo you can create... ARTISTIC CASES!
Selected Italian artists have created a series of original, unique and exclusive graphics with which to customize your cases! Visit the artist area and discover the image gallery, where you can choose your favourite image!
You can also create the HTC brand:
HTC U12 Plus case | HTC One M9 case | HTC Desire 10 Pro case | HTC Desire 650 case | HTC 10 evo case | HTC U Play case | HTC U Ultra case | HTC 10 | HTC Desire 830 case | HTC Desire 530 case | HTC Desire 825 case | HTC Desire 728 dual sim case | HTC Desire 828 dual sim case | HTC One X9 case | HTC Desire 526G+ dual sim case | HTC Desire 626 case | HTC One M9+ case | HTC Desire Eye case | HTC Desire 620 dual sim case | HTC Desire 320 case | HTC One mini 2 case | HTC Desire 510 case | HTC Desire 820 case | HTC Desire 610 case | HTC Desire 816 case | HTC Desire 310 case | HTC M8 case | HTC One V case | HTC One S case | HTC One X case | HTC Desire C case | HTC Windows phone 8S case | HTC Windows phone 8X case | HTC One SV case | HTC One (M7) | HTC One mini case | HTC Desire 500 case | HTC Desire 601 case