Create your custom iPhone 12 mini cases
Do you have a new iPhone 12 mini and are afraid it might get damaged? With Personalizzalo
you can protect your device
and at the same time transform it into an original and unique object.
Find out how to create all the custom cases for iPhone 12 mini
you want with just a few clicks:
Click "Create", select the case icon and the Apple brand.
Browse through the available models to find the iPhone 12 mini and choose the type of case that suits you best.
How to customise: upload a photo directly from your smartphone or PC or choose a design from those in our Artists' Gallery.
Position the image as you prefer, zoom and edit... have fun with our configurator!
That's it! In just 72 working hours you will receive your custom iPhone 12 mini case at home!
HOW ARE OUR CUSTOMIZED IPHONE 12 MINI COVERS MADE?
watch the videos and discover our quality products
SOFT IPHONE 12 MINI CASES
PROTECTIVE
Custom iPhone 12 mini cases in revolutionary TPU silicone, a classic case. A case that is easy to fit and extremely elastic, and which provides ideal protection for your iPhone: no scratches on the back, raised borders and a grip coating!
RESISTANT
Custom soft iPhone 12 mini cases are not only practical and easy to fit, they are also extremely resistant. Designed to last, they are wear-resistant and do not fade over time!
SURPRISING
Maximum protection and aesthetics: amaze your friends with your new custom iPhone 11 case, the exceptional high-definition printing process makes colors incredibly bright and the image well-defined.
WALLET IPHONE 12 MINI CASE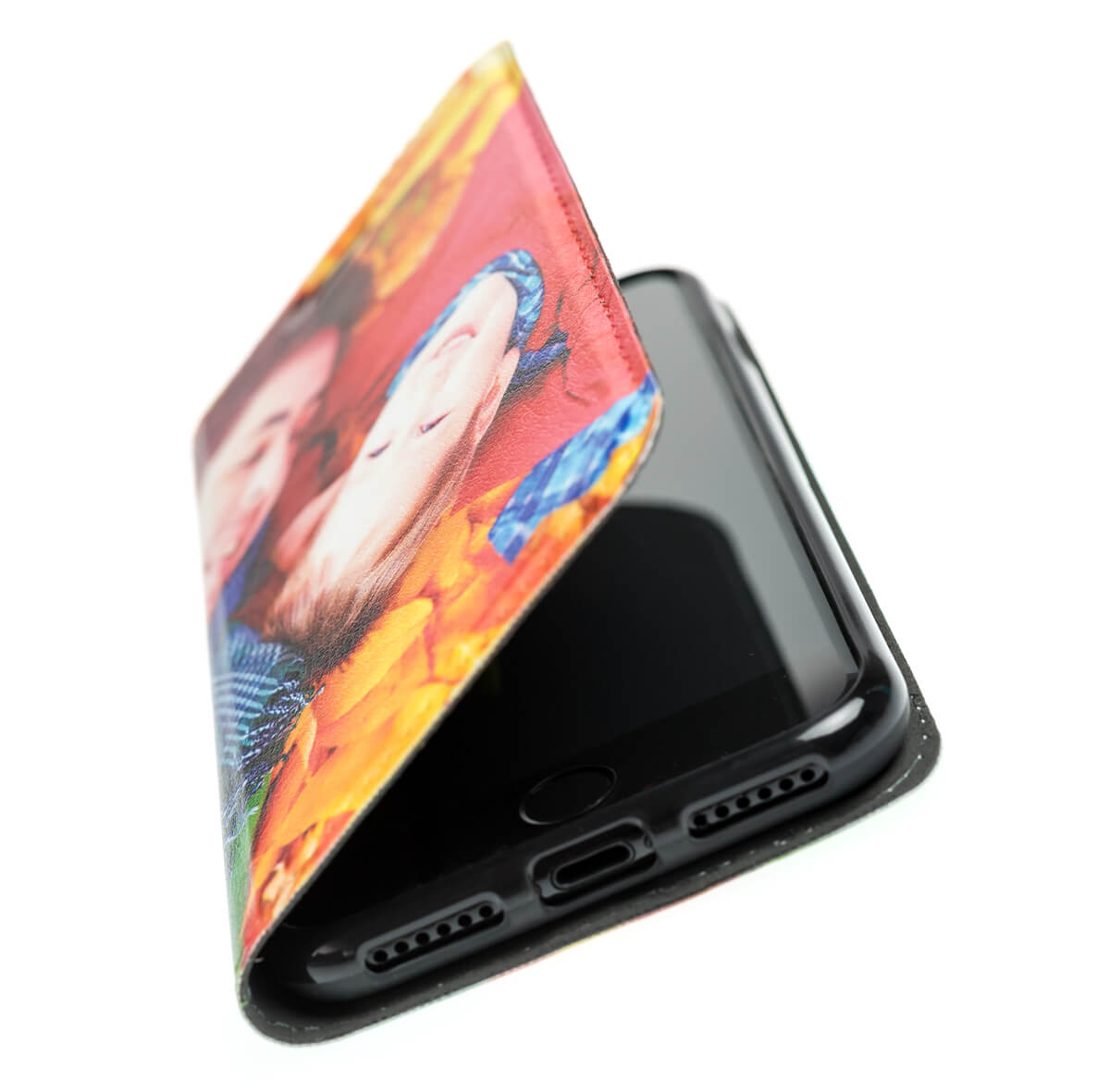 CONVENIENT
A practical and versatile case. The custom book-style iPhone 12 mini case has a convenient strap-free magnetic fastening, can be folded and used as a stand for watching multimedia content and includes a useful card holder.
HIGHLY PROTECTIVE
Using a custom book-style iPhone 12 mini case means reducing the risk of your iPhone breaking by 95%. This case surrounds the telephone with a silicone shell, while the display is protected by an eco-leather cover.
ELEGANT
The images printed on the custom iPhone 12 mini cases have an incredible level of quality and are long lasting. The ideal decoration for the elegant cover in soft eco-leather!
Custom iPhone 12 mini case: a fantastic gift idea.
Have you ever had to give a gift and found yourself short of imagination and ideas? If you want to be certain and make the perfect choice, give a custom iPhone 12 soft or book-style case! You can make it with just a few clicks and have it delivered directly to the recipient. A useful and tailor-made gift. You can customise it with a group photo or personal message; perfect for Christmas, Valentine's day or birthdays!
Not only custom iPhone 12 mini cases
Here at Personalizzalo we have an innovative and very high-performance printing method. This is why we thought we should go beyond just producing custom cases for iPhone 12 mini and other smartphones! Thanks to our simple and intuitive configurator, you can customise a wide range of other objects: cases for more than 700 models of smartphone, cases for MacBooks, iPads and tablets, clothing in all sizes, shopping bags and even MINI-MEs that look like you!