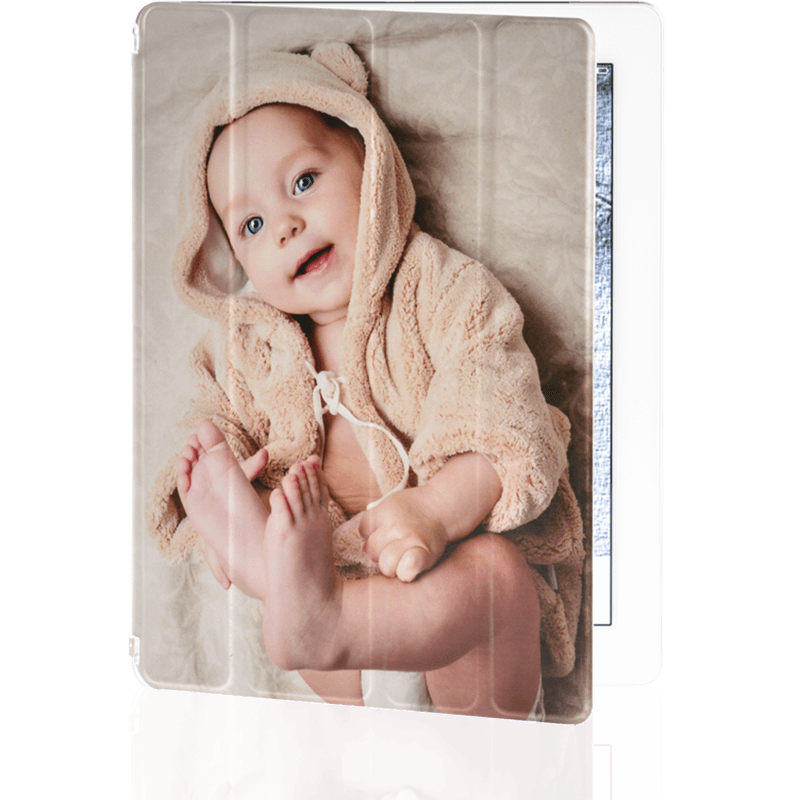 Create your custom case in just a few simple clicks!
Create now fantastic custom iPad cases with Personalizzalo!Our exceptional smart cases will protect your tablet in a unique and original way! How can you do it? It's easy:
select the brand 'Apple' from the options available;
select the model 'iPad' from the choice of devices;
upload a photo from your computer or smartphone, or choose an original artist's design from our gallery;
position the image as you would like it on the case template;
.. and the job is done!
The custom case for your iPad will be delivered to your home, or to whomever you choose, within 72 hours!
Custom iPad Cases:
Details make difference
Custom iPad cases: elegance and style!
Even though our smart cases for iPad 2, iPad 3 and iPad 4 are very thin, they ensure a full protection of your device. They are a perfect solution if you carry your Apple tablet in a bag, in a backpack or in a briefcase, since they preserve both the back and the screen of your device. All our iPad cases are also equipped with a foldable support, which provides a slight inclination and allows a comfortable use of your iPad while typing or browsing media files.
Custom iPad case, a unique gift idea!
Personalized iPad cases are an original gift idea for any occasion. Start now to create a personalized cover for your iPad.
In addition to the iPad case, you can also customize:
iPad Pro 11 2021 case | iPad Pro 12.9 2021 case | iPad Air 4 2020 case | iPad Pro 11 2020 case | iPad Air 4 2020 case | iPad Pro 12.9 2020 case | iPad 10.2 2019 case | iPad mini 2019 case | iPad Air 2019 case | iPad Pro 11 case | iPad Pro 12.9 case | iPad 9.7 2018 case | iPad Pro 10.5 2017 case | iPad Pro 12.9 2017 case | iPad 9.7 2017 case | iPad Pro 9.7 case | iPad mini 4 case | iPad Pro 12.9 2015 case | iPad mini 3 case | iPad Air 2 case | iPad 2 case | iPad 3 case | iPad 4 case | iPad mini case | iPad mini 2 case