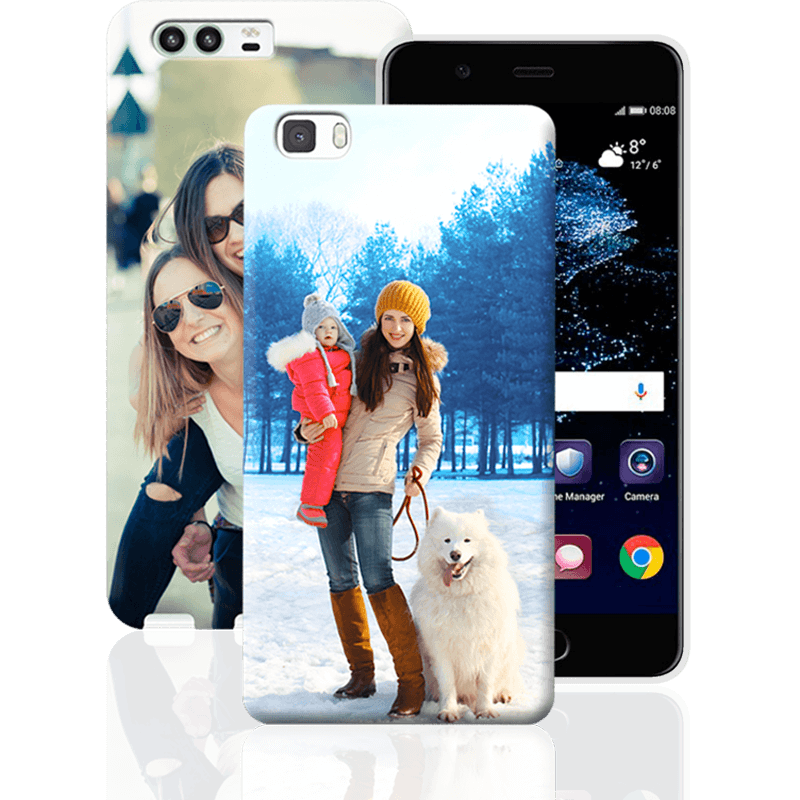 CUSTOM HUAWEI PHONE CASES
Create custom Huawei phone cases for your smartphone!
Custom Huawei phone cases? Now possible with Personalizzalo!

Create a custom case for your Huawei phone: it's simple, fast, and fun! Just choose the model of your Huawei phone, upload a picture from your computer, and position it on the case as you like... that's it!

Your custom Huawei case will be at your home within 72 hours! Start creating customized Huawei cases now!
Custom Huawei Cases:
Details make difference
Huawei case: elegance and style!
The custom Huawei phone cases are made of hard and durable silicone, which protects your device in case of bumps, scratches and drops. We use an innovative printing process that ensures bright colors in addition to resistance over time.
Custom Huawei phone cases: an original gift idea!
The custom Huawei phone cases are also a perfect gift idea to surprise friends, colleagues, boyfriends, girlfriends or relatives in a simple but original way. This is a gift idea that is suitable for everyone!
COLLABORATE WITH PERSONALIZZALO
If you are a sector professional or a retailer, and you are interested in offering a mobile phone case or accessory customization service in your store, CONTACT US by using the dedicated form, entering all the necessary information. Our staff will contact you as soon as possible to give you all the necessary information.
On Personalizzalo you can create... ARTISTIC CASES!
Selected Italian artists have created a series of original, unique and exclusive graphics with which to customize your cases! Visit the artist area and discover the image gallery, where you can choose your favourite image!
HUAWEI P30, P30 PRO AND P30 LITE
The new P30, P30 Pro and P30 Lite change the rules of photography, with a quadruple Leica camera composed of a SuperZoom lens, a Super Sensing 40 mp camera, a 20 mp ultra-wide-angle lens camera and a HUAWEI TOF camera. With super zoom up to 50x, the new Huawei smartphones are able to capture any important moment. Protect your new smartphone with a custom case, choose from those offered by Personalizzalo.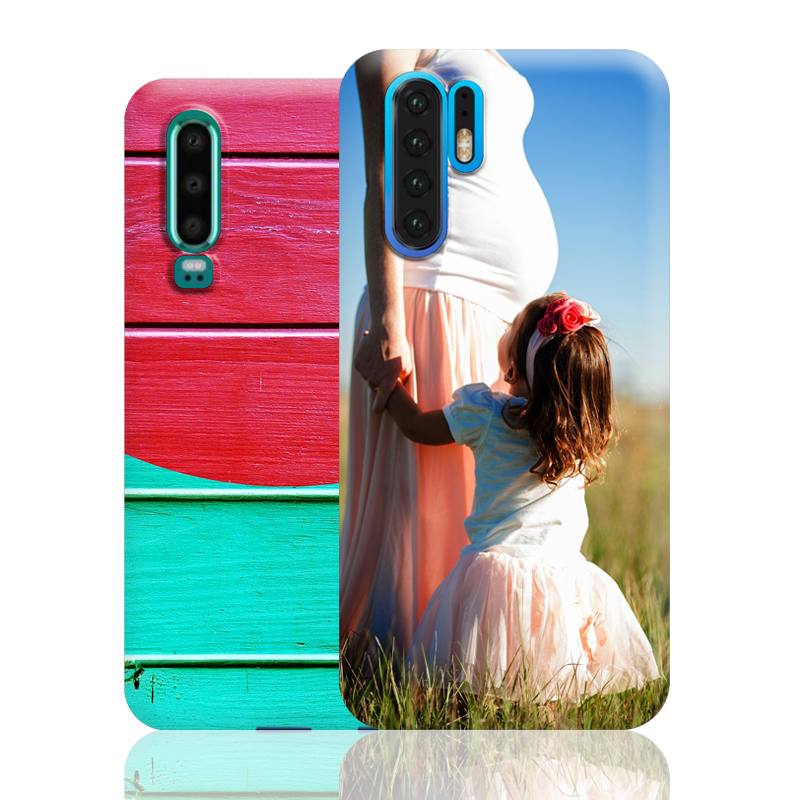 HUAWEI P8 AND P8 LITE
The Huawei P8 is an Android smartphone with a good level of imaging, thanks to the 5.2-inch touchscreen display with a resolution of 1920 x 1080 pixels: it satisfies even the most demanding of users. The LTE 4G module allows for rapid data transfer and internet navigation, and it also offers Wi-Fi and GPS capabilities. The Huawei P8 Lite model, which is slightly smaller and lighter (143 x 70.6 x 7.7 mm, weighing 131 grams), offers the style and the lines of the P8 at a lower price, as well as a great advantage: a dual sim. If you want to customize your Huawei P8 or P8 Lite case, follow the simple steps and it will be yours in 72 hours!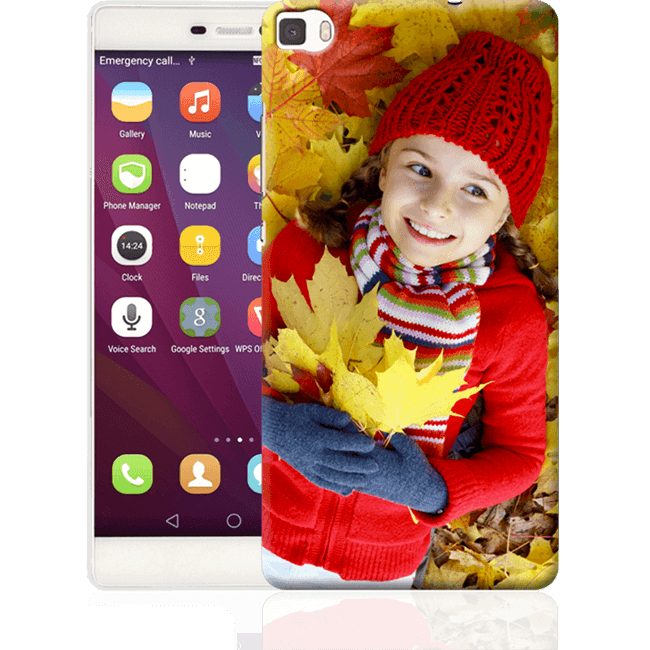 HUAWEI ASCEND Y530
Simplicity is the key word for this model: just as complete, it offers all of the functionality of the other models, such as Wi-Fi, GPS, and an excellent data transfer and navigation system due to the HSPA+ module. It has an expandable memory, a multimedia player and Bluetooth. Personalizzalo cases are also available for this model; and if you are looking for total protection, you can also opt for a tempered glass film, which is resistant to knocks and falls.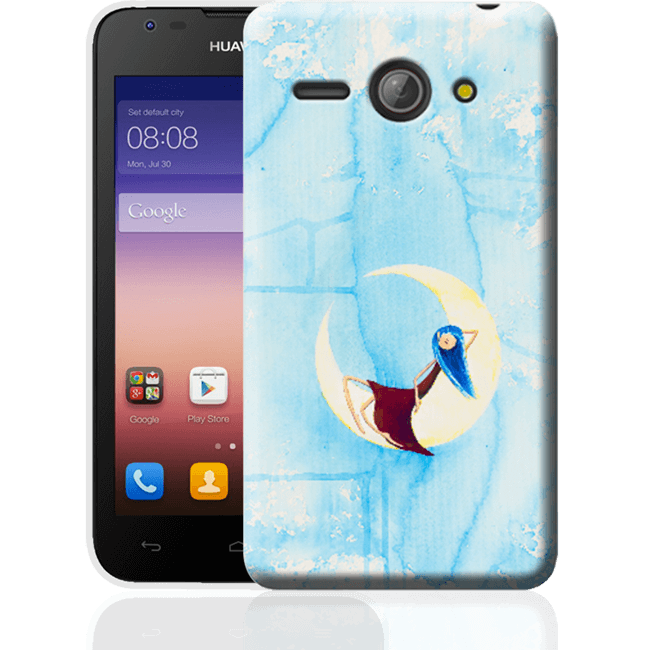 HUAWEI PSMART 2019 AND PSMART+ 2019
An incredibly sharp display. The new Huawei P Smart 2019 models have amazing colours and an elegant and sophisticated design. The body of the P Smart is refined down to the tiniest detail, with 3D curves and a glossy ceramic-effect surface. Lastly, a double camera allows every moment to be captured. Protect your new smartphone with a custom case chosen from those available from Personalizzalo.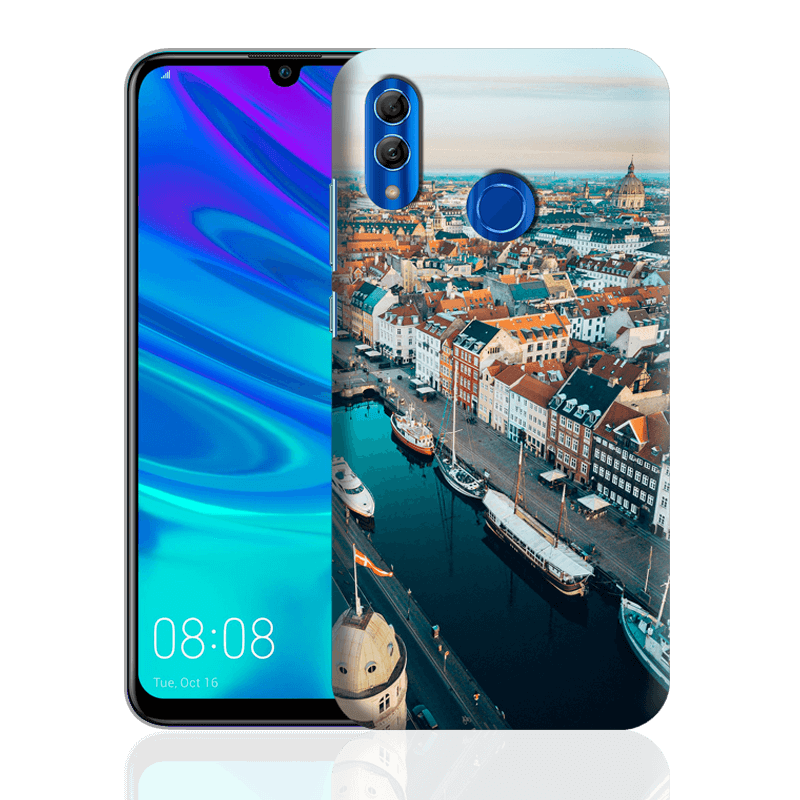 HUAWEI P10
This smartphone boasts two examples of the latest-generation technology: the double camera offers high-quality shots, thanks to 3D face-recognition, dynamic illumination and natural portrait enhancement technology, the result of studies developed in collaboration with Leica. Furthermore, the long-life 3200 mAh battery supports SuperCharge technology: a 30-minute charge guarantees a whole day's autonomy.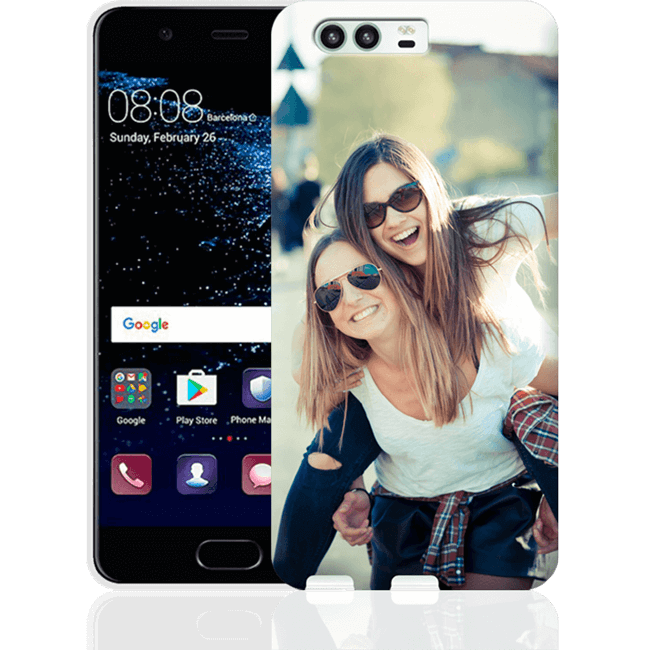 HUAWEI Y6
A prestigious low-cost smartphone: a 5-inch screen with a 1920 x 1280 resolution, an original design, dual sim and an 8-megapixel external camera. The only disadvantage of this prestigious low-cost smartphone? The smartphone's back cover fits perfectly, but is not particularly resistant: as a solution, you can trust Personalizzalo to guarantee improved protection for your Huawei Y6.
HUAWEI P9, P9 LITE AND P9 PLUS
The Huawei P9 offers a double camera and professional photographic effects: the 8-megapixel front camera allows you to take perfect selfies, even in low light. The Huawei P9 Lite is a format which unites unlimited functionality, style and affordability: a worthy successor to the P8 Lite model, with improved hardware and elegant, studied detailing. The Huawei P9 Plus differs for its optimised hardware and wider display. If you are looking for a Huawei P9 Lite or Plus case, take a look at our catalogue and start customizing!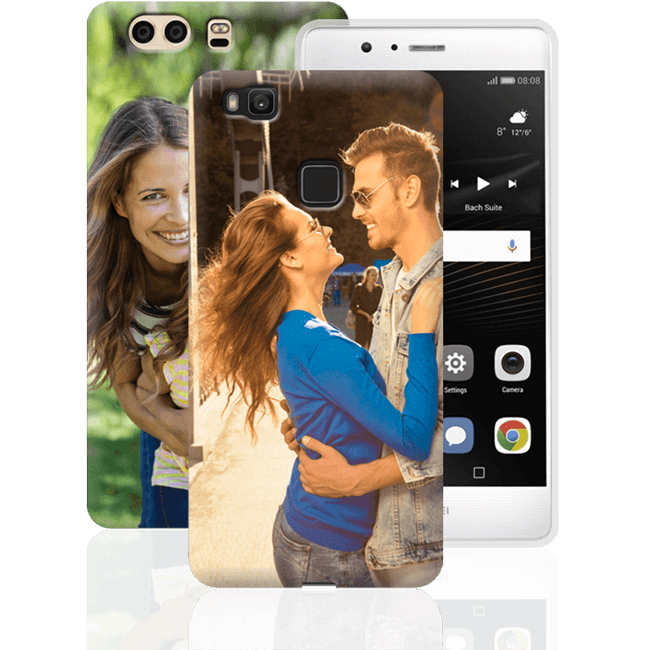 HUAWEI ALL AVAILABLE MODELS
Are you wondering if it is possible to also customize less recent Huawei models, or the model you are looking for isn't listed above? Have a look at our catalogue and choose the model you want to decorate with your images. You will also find the latest models: you can also easily customize your Huawei P10, P8 Lite or P9 Lite case.
You can also create Huawei brand:
Honor 9A case | Honor 9X Lite case | Honor 30 Lite case | Mate 30 Lite case | Huawei P40 Lite E case | Huawei Y6 2018 case | Huawei Honor 9s case | Huawei P Smart 2020 case | Huawei Honor 8A case | Honor 30 case | Huawei Mate 30 case | Huawei Mate 30 Pro case | Huawei Nova 5I Pro case | Huawei P40 case | Huawei P40 Lite case | Huawei P40 Pro case | Huawei Honor 8A case | Huawei Honor 20 case | Huawei Honor V30 case | Huawei V30 Pro case | Huawei Nova 6 (5G) case | Huawei Nova 6Se case | Honor Play 3 case | Honor Play 3E case | Honor 9X case | Honor 20 Pro case | Huawei Enjoy 10S case | Huawei Y7 2019 case | Nova 5 case | Nova 5i PRO case | Huawei P Smart Z case | Huawei P20 Lite 2019 case | Huawei Y6 2019 case | Huawei y7 2019 case| Huawei Y6 2019 case | Huawei P Smart Z case | Huawei P8 case | Huawei Y7 case | Huawei Y5 2019 case | Honor 10i case | Huawei P Smart Plus 2019 case | Huawei p30 Lite case | Huawei p30 case | Huawei p30 pro case | Huawei p30 Note case | Huawei p30 Play case | Huawei Honor V20 case | Huawei Honor 8C case | Huawei Nova 4 case | Huawei Honor 1C case | Huawei Honor 10 case | Huawei Honor 10 LITE case | Huawei PSmart 2019 case | Huawei Honor 8X Max case | Huawei Honor 8X case | Huawei Mate 20 case | Huawei Mate 20 prov Huawei Y9 2019 case | Huawei Y3 case | Huawei Y5 case | Huawei Y6 case | Huawei Nova 2 case | Huawei Nova 2 plus case | Huawei Y7 prime case | Huawei Honor 9 case | Huawei Honor 8 pro case | Huawei Honor 6X case | Huawei Mate 9 case | Huawei Mate 9 pro case | Huawei Nova smart case | Huawei Honor Magic case | Huawei Honor 8 case | Huawei Honor Note 8 case | Huawei Nova case | Huawei Nova plus case | Huawei Y5 II case | Huawei Y3 II case | Huawei Honor 5C case | Huawei Honor V8 case | Huawei Y6 II case | Huawei Nexus 6P case | Huawei Mate 8 case | Huawei Enjoy 5S case | Huawei Honor 7 case | Huawei G8 case | Huawei Y6 case | Huawei Honor 7i case | Huawei Ascend Y540 case | Huawei Y360 case | Huawei Y635 case | Huawei SnapTo case | Huawei Y625 case | Huawei Honor 4X case | Huawei Honor 6 plus case | Huawei Honor 6 case | Huawei Mate 7 case | Huawei Ascend P7 mini case | Huawei Ascend G7 case | Huawei Ascend Y550 case | Huawei Ascend G620s case | Huawei Ascend Y530 case | Huawei Ascend G6 case | Huawei Ascend Y600 case | Huawei Ascned G730 case | Huawei Ascend G510 case | Huawei Ascend G526 case | Huawei Ascend 615 case | Huawei Ascend Y300 case | Huawei Ascend P6 case | Huawei Ascend G525 case | Huawei G610 case | Huawei Ascend G700 case | Huawei Honor 3C case | Huawei Honor 3X case | Huawei Honor 9 case | Huawei P20 Lite case | Huawei P Smart case | Huawei P20 Plus case | Huawei P20 Pro case | Huawei Honor 6X case | Huawei Y9 2018 case | Huawei Y7 PRO 2018 case | Huawei Honor 10 case | Huawei Honor 7C case