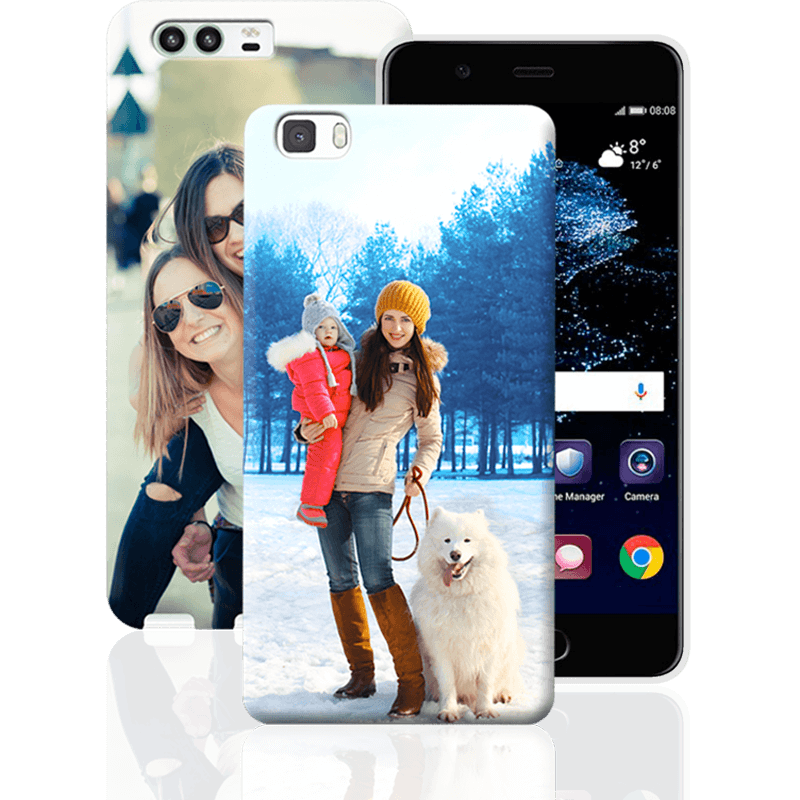 CUSTOM HUAWEI PHONE CASES
Create custom Huawei phone cases for your smartphone!
Custom Huawei phone cases? Now possible with Personalizzalo!

Create a custom case for your Huawei phone: it's simple, fast, and fun! Just choose the model of your Huawei phone, upload a picture from your computer, and position it on the case as you like... that's it!

Your custom Huawei case will be at your home within 72 hours! Start creating customized Huawei cases now!
Custom Huawei Cases:
Details make difference
Huawei case: elegance and style!
The custom Huawei phone cases are made of hard and durable silicone, which protects your device in case of bumps, scratches and drops. We use an innovative printing process that ensures bright colors in addition to resistance over time.
Custom Huawei phone cases: an original gift idea!
The custom Huawei phone cases are also a perfect gift idea to surprise friends, colleagues, boyfriends, girlfriends or relatives in a simple but original way. This is a gift idea that is suitable for everyone!
COLLABORATE WITH PERSONALIZZALO
If you are a sector professional or a retailer, and you are interested in offering a mobile phone case or accessory customization service in your store, CONTACT US by using the dedicated form, entering all the necessary information. Our staff will contact you as soon as possible to give you all the necessary information.
On Personalizzalo you can create... ARTISTIC CASES!
Selected Italian artists have created a series of original, unique and exclusive graphics with which to customize your cases! Visit the artist area and discover the image gallery, where you can choose your favourite image!
You can also create Huawei brand:
Huawei Y8s case | Huawei Honor Play 4T Pro case | Huawei Enjoy 20 Plus 5G case | Huawei Enjoy 20 5G case | Huawei Nova Young case | Huawei Honor 8A Prime case | Huawei Enjoy 20 Plus case | Huawei Nova 8 SE case | Huawei Y5p case| Huawei Nova Y9 Prime 2019 case | Huawei P Smart 2021 case | Honor Play 9A case | Honor Play 4T PRO case | Huawei Enjoy 20 case | Honor 9A case | Honor 9X Lite case | Honor 30 Lite case | Mate 30 Lite case | Huawei P40 Lite E case | Huawei Y6 2018 case | Huawei Honor 9s case | Huawei P Smart 2020 case | Huawei Honor 8A case | Honor 30 case | Huawei Mate 30 case | Huawei Mate 30 Pro case | Huawei Nova 5I Pro case | Huawei P40 case | Huawei P40 Lite case | Huawei P40 Pro case | Huawei Honor 8A case | Huawei Honor 20 case | Huawei Honor V30 case | Huawei V30 Pro case | Huawei Nova 6 (5G) case | Huawei Nova 6Se case | Honor Play 3 case | Honor Play 3E case | Honor 9X case | Honor 20 Pro case | Huawei Enjoy 10S case | Huawei Y7 2019 case | Nova 5 case | Nova 5i PRO case | Huawei P Smart Z case | Huawei P20 Lite 2019 case | Huawei Y6 2019 case | Huawei y7 2019 case| Huawei Y6 2019 case | Huawei P Smart Z case | Huawei P8 case | Huawei Y7 case | Huawei Y5 2019 case | Honor 10i case | Huawei P Smart Plus 2019 case | Huawei p30 Lite case | Huawei p30 case | Huawei p30 pro case | Huawei p30 Note case | Huawei p30 Play case | Huawei Honor V20 case | Huawei Honor 8C case | Huawei Nova 4 case | Huawei Honor 1C case | Huawei Honor 10 case | Huawei Honor 10 LITE case | Huawei PSmart 2019 case | Huawei Honor 8X Max case | Huawei Honor 8X case | Huawei Mate 20 case | Huawei Mate 20 prov Huawei Y9 2019 case | Huawei Y3 case | Huawei Y5 case | Huawei Y6 case | Huawei Nova 2 case | Huawei Nova 2 plus case | Huawei Y7 prime case | Huawei Honor 9 case | Huawei Honor 8 pro case | Huawei Honor 6X case | Huawei Mate 9 case | Huawei Mate 9 pro case | Huawei Nova smart case | Huawei Honor Magic case | Huawei Honor 8 case | Huawei Honor Note 8 case | Huawei Nova case | Huawei Nova plus case | Huawei Y5 II case | Huawei Y3 II case | Huawei Honor 5C case | Huawei Honor V8 case | Huawei Y6 II case | Huawei Nexus 6P case | Huawei Mate 8 case | Huawei Enjoy 5S case | Huawei Honor 7 case | Huawei G8 case | Huawei Y6 case | Huawei Honor 7i case | Huawei Ascend Y540 case | Huawei Y360 case | Huawei Y635 case | Huawei SnapTo case | Huawei Y625 case | Huawei Honor 4X case | Huawei Honor 6 plus case | Huawei Honor 6 case | Huawei Mate 7 case | Huawei Ascend P7 mini case | Huawei Ascend G7 case | Huawei Ascend Y550 case | Huawei Ascend G620s case | Huawei Ascend Y530 case | Huawei Ascend G6 case | Huawei Ascend Y600 case | Huawei Ascned G730 case | Huawei Ascend G510 case | Huawei Ascend G526 case | Huawei Ascend 615 case | Huawei Ascend Y300 case | Huawei Ascend P6 case | Huawei Ascend G525 case | Huawei G610 case | Huawei Ascend G700 case | Huawei Honor 3C case | Huawei Honor 3X case | Huawei Honor 9 case | Huawei P20 Lite case | Huawei P Smart case | Huawei P20 Plus case | Huawei P20 Pro case | Huawei Honor 6X case | Huawei Y9 2018 case | Huawei Y7 PRO 2018 case | Huawei Honor 10 case | Huawei Honor 7C case