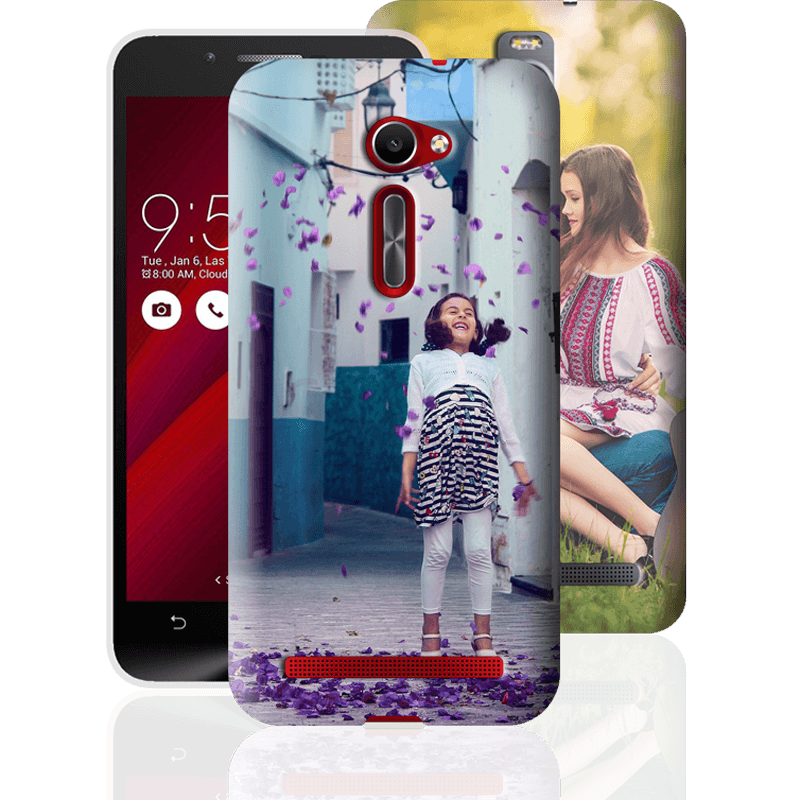 Create Asus custom case for your smartphone!
Now you can create your own exclusive Asus custom case: there are a lot of models to choose from! It's very easy, just follow these simple steps:
Click on CUSTOMIZE YOUR CASE from the main menu;
Select Asus from the list of the available brands;
Choose the model of your ASUS (for example Asus Zenfone 6 or Asus Zenfone 5);
Upload a photo from your computer or directly from a social network;
Position it as you like on the case;
...and your custom case is ready and will be delivered to your home within 72 hours!
Custom Asus Cases:
Details make difference
Asus custom case: elegance and style!
Our Asus custom case is perfect to protect your smartphone from drops, bumps and scratches. It will fit perfectly your phone protecting not only its back but also its sides and a small part of its front, which allows you to put your phone screen-side down without risking any damage.

The Asus custom case is available in different models: the classic TPU cases made of silicone, the exclusive soft Deluxe cases with a special faux-leather texture, as well as the practical and elegant faux leather wallet cases..
Asus custom case: a great gift idea!
The Asus custom cases are also an original and unique gift, suitable for any occasion: anniversaries, birthdays, graduations, etc..! Get started now and customize the look of your Asus!
COLLABORATE WITH PERSONALIZZALO
If you are a sector professional or a retailer, and you are interested in offering a mobile phone case or accessory customization service in your store, CONTACT US by using the dedicated form, entering all the necessary information. Our staff will contact you as soon as possible to give you all the necessary information.
On Personalizzalo you can create... ARTISTIC CASES!
Selected Italian artists have created a series of original, unique and exclusive graphics with which to customize your cases! Visit the artist area and discover the image gallery, where you can choose your favourite image!
You can also create the Asus brand:
Zenfone 6 zs630kl case | Zenfone Max zb555kl case | Zenfone Max Pro zb601kl case | Asus Zenfone 6 zs630kl case | Asus Zenfone Max Pro M2 case | Asus Zenfone 5 case | Asus Zenfone 3 case | Asus Zenfone 2 case | Asus Zenfone 3 Deluxe 5.5 case | Asus Zenfone 3 Max case | Asus Zenfone Go case | Asus Zenfone 3 Deluxe case | Asus Zenfone Pegasus 3 case | Asus Zenfone 3 Laser case | Asus Zenfone 2 case | Asus Zenfone Selfie case | Asus Zenfone 2 Laser case | Asus Zenfone 5 case | Asus Zenfone 6 case | Asus Selfie case