HOW TO CREATE YOUR SAMSUNG GALAXY NOTE 10 PLUS CASE
Do you want
to protect your smartphone from knocks and falls
, while also lending it a touch of originality? With Personalizzalo
you can create your custom Note 10 Plus case
with just a few clicks, providing excellent protection for your device and turning it into a colourful and unique object. Here are the steps to follow to make the case of your dreams:
Click "Create" from the menu at the top of the page and choose;
Choose the brand and model of your smartphone.
Upload the image you want from your smartphone or PC, or choose a design from the Artist' Gallery.
Modify your image as you like with our configurator, until you achieve the result you want.
That's it, you will receive your case in just 72 hours!
HOW ARE OUR CUSTOMIZED GALAXY NOTE 10 PLUS MADE?
watch the videos and discover our quality products
SOFT GALAXY NOTE 10 PLUS CASE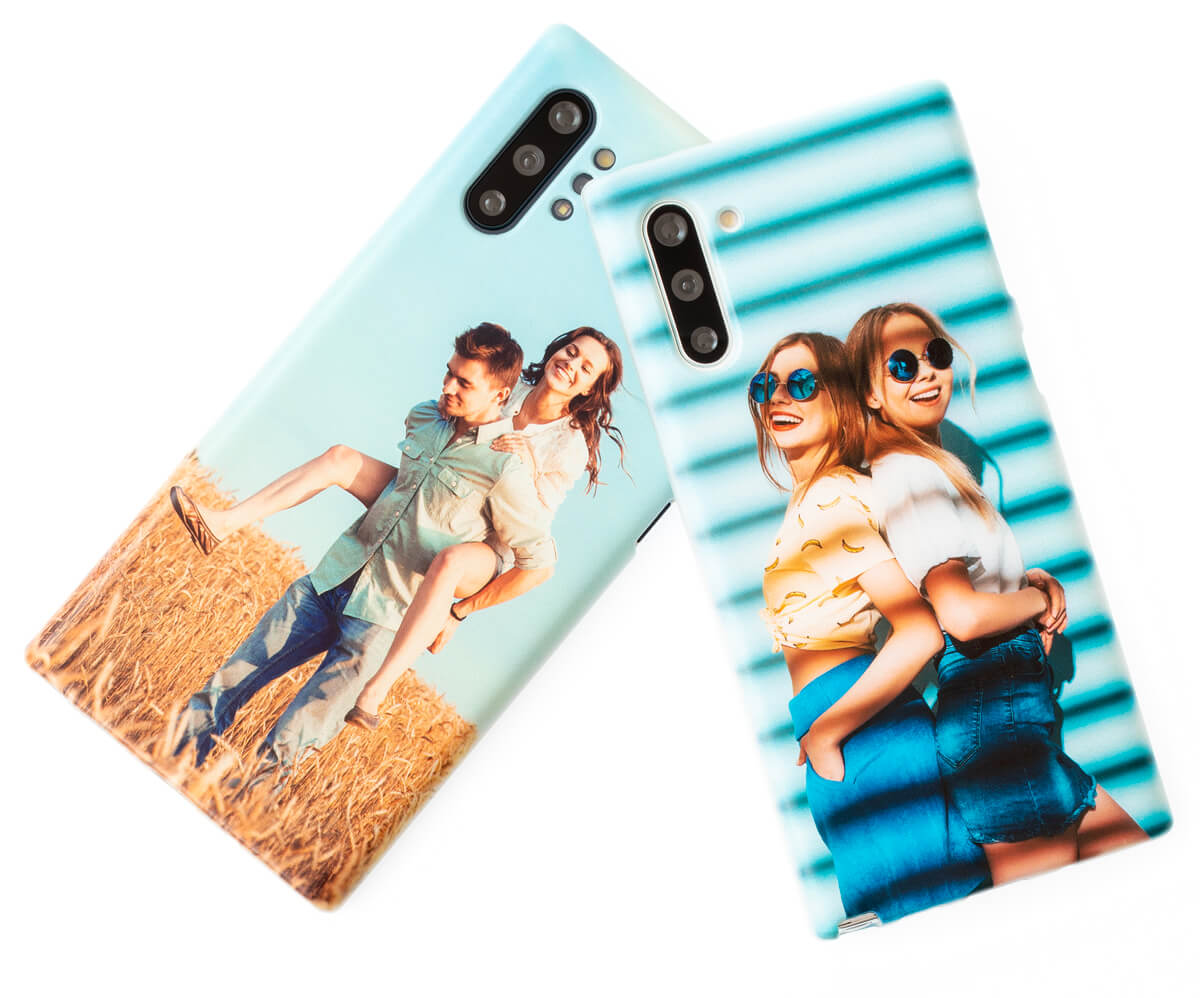 PROTECTIVE
Custom Galaxy Note 10 Plus cases are moulded in soft TPU silicone, a material with a high capacity for absorbing impact. These cases are also fitted with 1-mm raised borders to avoid the screen from being scratched, and they have an anti-slip grip coating.
RESISTANT
Designed to provide long-lasting protection for your smartphone, custom Note 10 Plus cases are incredibly scratch resistant and are made with an excellent shape memory. Bright and colourful, the printed images will also be long lasting.
SURPRISING
Extremely light, comfortable and scratchproof, these soft custom Galaxy Note 10 Plus cases are amazing! These cases have precisely cut holes in line with the buttons and sockets for external connectors and are customised with prints of an incredibly high resolution!
CUSTOM GALAXY NOTE 10 PLUS CASE: A FANTASTIC GIFT IDEA.
Do you always have trouble deciding on a gift every time a special occasion come around? Don't despair, you can give all the custom Note 10 Plus cases you want. These cases are the perfect gift, because they are always useful and can be customised with a special photo or message. Furthermore, you can buy Personalizzalo cases with just a few clicks and without leaving home! Give custom Note 10 Plus cases for Christmas, for a birthday, for Valentine's day or whenever you want!
NOT ONLY CUSTOM GALAXY NOTE 10 PLUS CASE
Here at Personalizzalo we place no limits on your creativity! When we realised that we had a fantastic printer and an intuitive and simple configurator, we thought: "why limit ourselves to custom Note 10 Plus cases?" Explore our website and discover how to set your creativity free. You can customise cases for more than 700 models of smartphone, cases for MacBooks, iPads and tablets, clothing for men, women and children, shopping bags, and even fun MINI-MEs that look like you!