Create your custom Samsung S9 case with Personalizzalo!

With Personalizzalo, creating custom Samsung S9 cases is really easy: just upload your favourite photo from your computer or smartphone and follow the steps in the online application. Free your imagination and create a truly unique Samsung case! If you are short of ideas and you are looking for inspiration, you can choose an original design from our artists' gallery and have fun customising your case as you prefer. When you are happy with the final result, you can order your case, which will be sent to your home or to the address of your choice in 72 hours! What are you waiting for? Start customising your case straight away!
HOW ARE OUR CUSTOMIZED GALAXY S9 COVERS MADE?
watch the videos and discover our quality products
SOFT GALAXY S9 CASE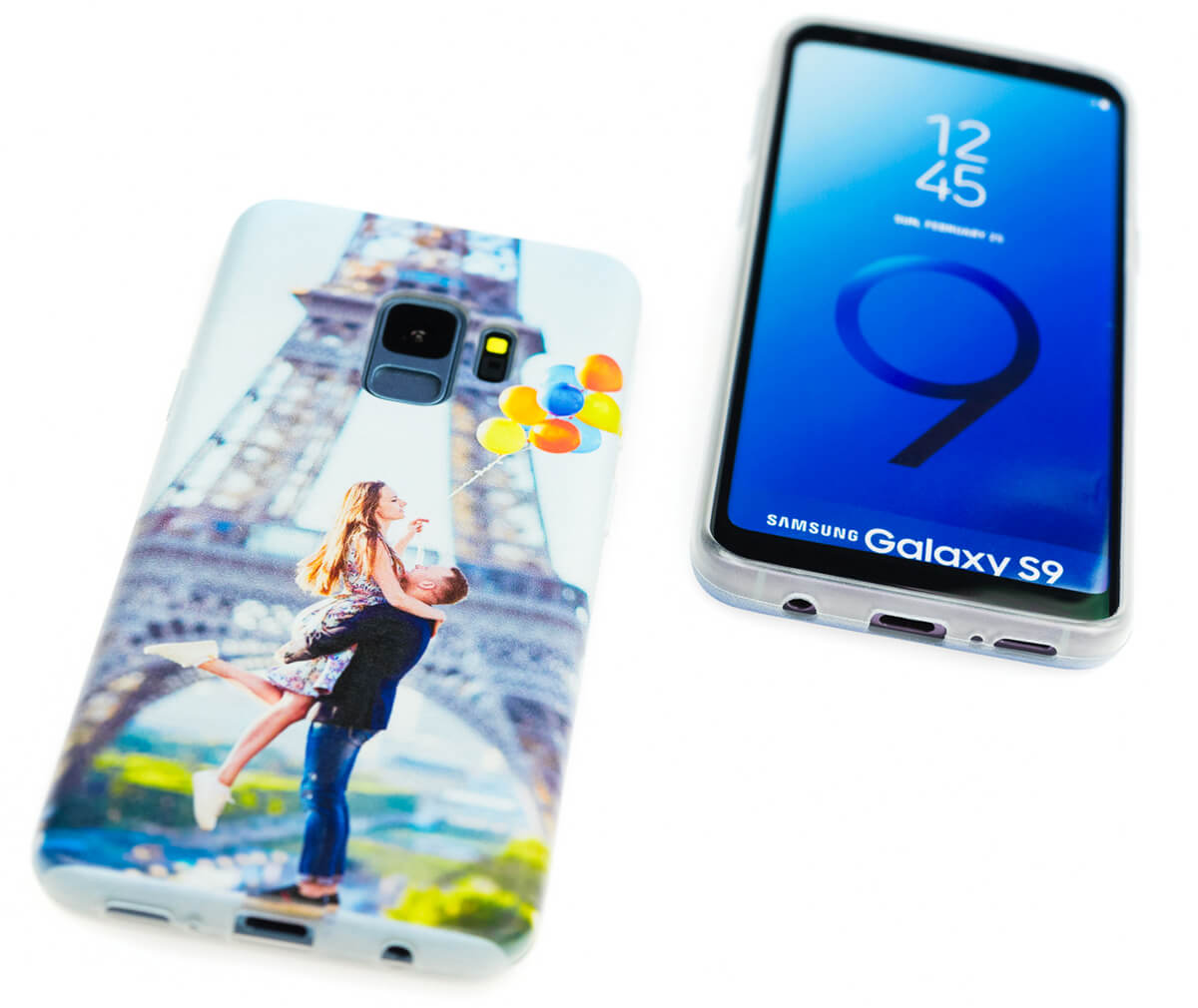 PROTECTIVE
Transparent custom case in silicone for iPhone 8. A silicone case which is really easy to put on to your Apple smartphone, offering exceptional grip, which will make your phone easier to handle, reducing the possibility of it being dropped by 90%.
RESISTANT
Resistant, practical and functional. The exceptional print quality guarantees that the image will last for an incredibly long time.
SURPRISING
Slim and very practical, an ideal solution for everyday use. The incredible rendering of colours offered by the high-resolution printing process will amaze everyone.
GALAXY S9 BOOK-STYLE CASE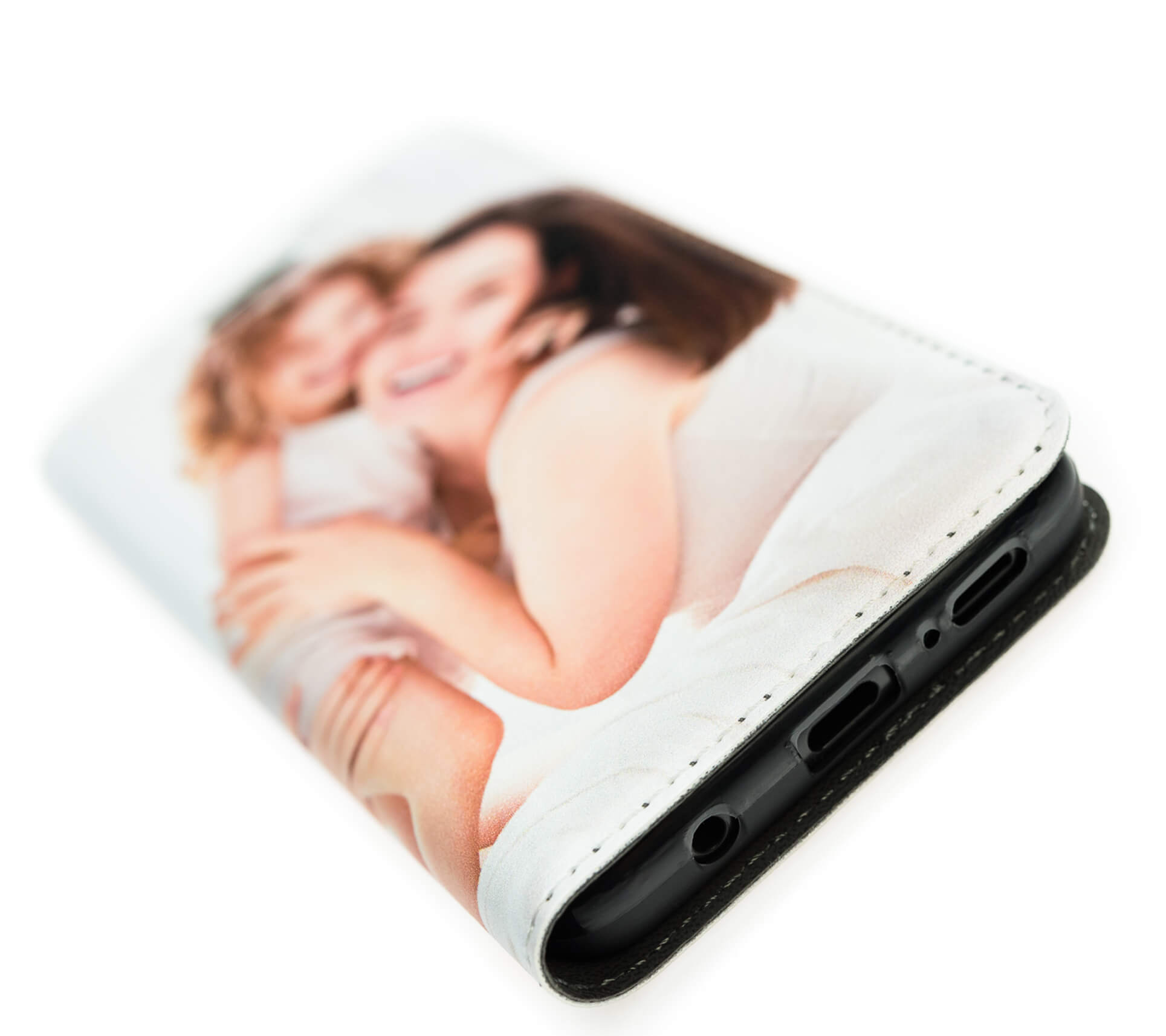 CONVENIENT
Super-practical and versatile. The iPhone XS book-style case has a tongue-free magnetic closure. It can be folded and used as a support to keep the telephone upright in order to watch multimedia content. It also has a handy space inside for cards.
HIGHLY PROTECTIVE
It reduces the risk of breakages by 95%. The case surrounds the telephone with a silicone shell and has an eco-leather cover which completely protects the device.
ELEGANT
The exceptional quality of the high-definition printing process, which is guaranteed to be long-lasting, makes the elegant eco-leather cover special.
Custom S9 cases: an original gift idea.
Do you never know what gifts to give, and are you tired of always relying on the same old anonymous ideas? A custom S9 case is definitely an original and unique idea, which will amaze whoever receives it. Suitable for any occasion, such as birthdays, graduations, anniversaries and name days, custom Samsung S9 cases are both a sophisticated and useful gift. If you don't know where to start, you can take inspiration from our gallery, where you will find a series of graphic designs, images and photographs created by young artists, which will provide added value to the case.
Custom cases for Samsung S9 and lots of other brands.
With Personalizzalo you can create custom cases for various other smartphone brands, such as, for example, iPhone, Huawei, HTC, LG and many other brands. Check the catalogue, where you will find lots of models available, such as Samsung S7 Edge cases, S8 Plus cases, custom Samsung S5 cases and lots of others. Whether you have an older model or the latest to be released on the market, and you can't find it in our catalogue, all you have to do is contact us via the dedicated area, and in no time, one of our experts will provide you with all the information you need. If instead you are a sector professional or a retailer and you are interested in the retail sale of custom cases and telephone accessories, contact us! After having provided all the requested information via the dedicated form
CONTACT US
, you will be contacted by our commercial representative in order to satisfy your requests and answer your questions.
Customise cases... and more!
With Personalizzalo, as well as custom cases, you can also create other objects. All you need is your imagination. We recommend choosing a photograph which measures at least 1500 pixels in length for custom cases. The formats recommended for saving are JPG for images with shading (photographs), and PNG for flat-colour images with defined outlines (graphics). If you can't find a photograph you like in your personal archive, you can use our
artists' gallery
, where you can choose from lots of designs, patterns or photographs proposed by the Personalizzalo artists. You can use them to make your custom Samsung S9 case a concentrate of creativity. With Personalizzalo, you can indulge yourself, also customising various-sized diaries and notebooks, MacBook cases and items of clothing, such as polo shirts and t-shirts, so that you always have something unique with you! For these larger custom objects, we recommend you choose a photograph which measures at least 2500 pixels and is no larger than 2 MB.
Custom Samsung S9 cases: a question of quality.
The strengths of our cases are the quality of the materials and the functionality, combined with style and quality service. TPU, silicone and eco-leather are usually used to make the cases. Silicone cases, for example, offer various advantages, including resistance and practicality. They are easy to handle, to apply to the phone and to clean. Eco-leather, instead, adds a touch of elegance to custom S9 cases. All cases made by Personalizzalo, a leader in the online case market, are made to measure for the relative smartphone model. This means that none of the ports, such as those for the jack or for the battery charger, are obstructed by the case. Do you also want to protect the screen, without using a book-style case? Personalizzalo has also got this covered. You can choose a tempered glass film which will protect the surface of your smartphone from scratches and heavy falls. Personalizzalo's service offers rapid delivery within 3 working days from the moment of ordering: create your case and start the countdown!