Create an original clear custom case!
Light, fascinating and glossy
. Personalizzalo lets you create the clear custom case you have always wanted! Thanks to our configurator, with just a few clicks you can create clear cases for more than 700 models from all the mobile phone brands: Apple, Samsung, Huawei, LG, HTC, Asus, Motorola, Redmi and many more.
Look for your model, and follow the instructions:
Click on "Create" at the top of the menu, and choose "
Case
". Then choose the brand and the model of your smartphone.
Now it's your turn
! Upload a photograph or an image directly from your smartphone or PC, or choose an image from our artists' gallery. But that's not all! Continue to customise by adding text, and if you want you can create fun collages, adding a range of images. When you are happy with the result, order your clear custom cases.
They will be delivered to your home in just 72 hours!
Custom CLEAR CASE:
Details make difference
CLEAR CASE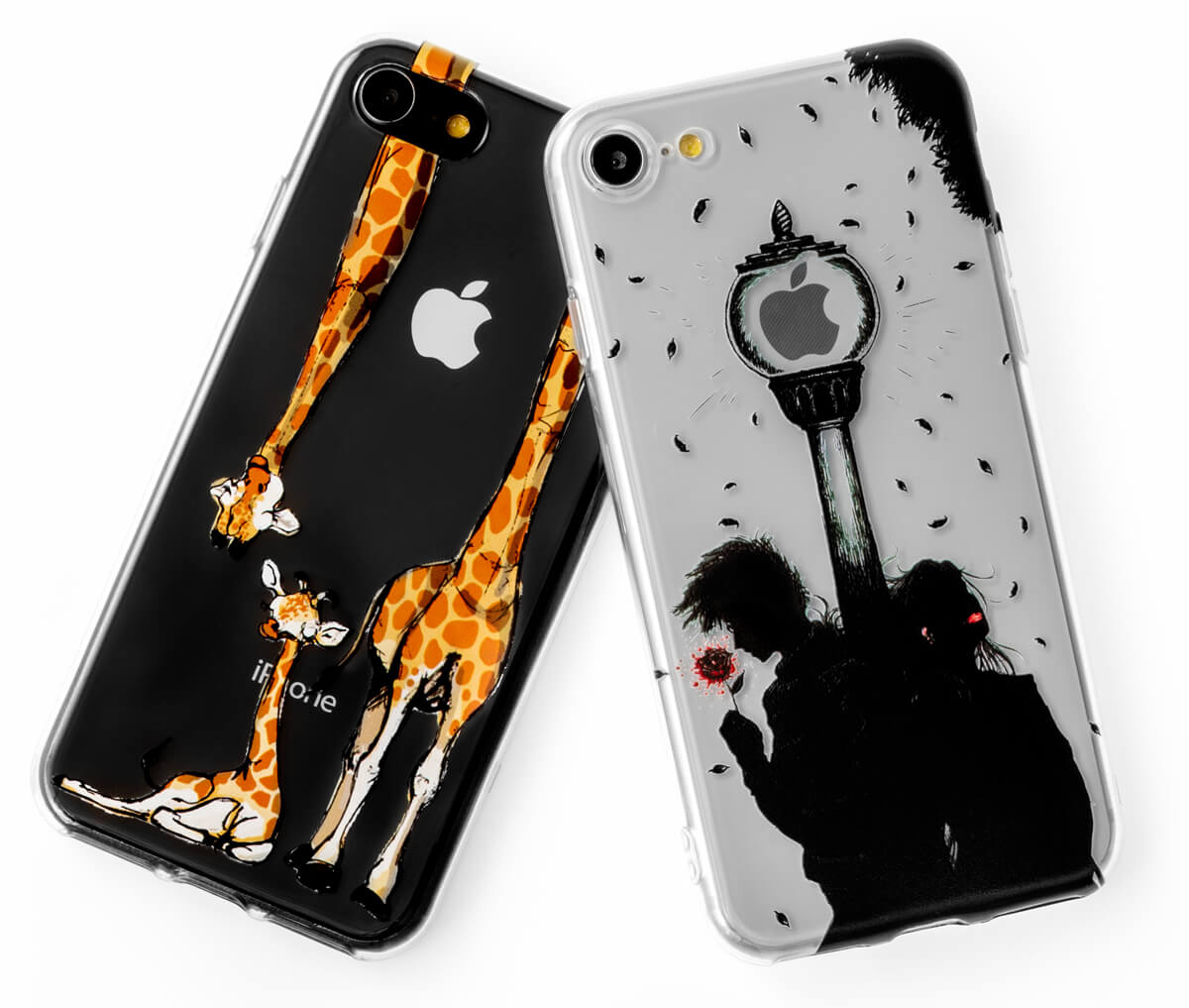 LIGHT
The soft clear cases you can create with Personalizzalo are made entirely of very modern TPU silicone. Thermoplastic polyurethane is a highly resistant, elastic and light material.
RESISTANT
Thanks to the characteristics of the material it is made of, the clear case does not yellow over time; in fact, TPU silicone is well-known for its properties as an oil-repellent material that is resistant to intense use and to scratches.
ULTRASLIM
Resistant and flexible, this case adapts perfectly to the lines of your device, leaving the side buttons and the AUX port accessible thanks to its precisely cut holes.
QUALITY PRINTING AND EXTREME TRANSPARENCY!
We use an innovative and modern printing technique to customise the clear cases that guarantees perfect details, extremely bright colours and long-lasting images. Practically, the images we print never fade! With Personalizzalo, you can place the image or photo you want on the case, select the area to be customised and leave the rest of the case perfectly clear. This means that the rear of your smartphone will be visible in the background, together with any logos or stickers.
GIVE A CLEAR CASE AS A GIFT!
Have you ever thought of giving a clear customised case as a gift? An original and tailor-made gift that is sure to make an impression and above all that can be purchased anywhere. All you need is your smartphone and an internet connection to complete the order and you will receive your gift within 72 hours! Imagine giving a case to your partner with a photo of the two of you for Valentine's day, or a case with a photo of a special moment for an anniversary, a birthday or Christmas... it will be a sure-fire hit!
NOT JUST CLEAR CASES!
 ALL OUR CUSTOM ITEMS!
Unsure how to customise your clear case? Explore our
artists' gallery
and
discover all the designs proposed by our collaborators
: realistic or fantasy images, photographs, patterns and symbols to inspire you. Creative and colourful ideas with which to
customise a wide range of other objects
, from cases for more than 700 models of telephone,
MacBook and Notebook cases
, iPad cases, clothing for men, women and children,
shopping bags
and even
MINI-MEs
that look like you!