Create your custom iPhone 11 Pro Max case

Did you just buy a
custom 11 Pro Max case
and are you looking for a case to protect it with style? You are in the right place! On Personalizzalo website, you can create custom iPhone 11 Pro Max case. Follow those steps:
Click on the button "Start Creating" that you find in the top part of the menu and select "Cases"
Select the model of your "Apple" iPhone.
Upload your favorite picture directly from your smartphone or computer and place it as you prefer;
Continue.
But that's not all! You have also the possibility to create fantastic collages, with many different images and text, customizing fonts and colors! Are you running out of ideas? Don't worry, Personalizzalo have the right one! Have a look at our young artists' gallery and select your favorite image!
When you are happy with the result, order your custom iPhone Pro Max case and
it will be delivered at your home in 72 hours
.
HOW ARE OUR CUSTOMIZED IPHONE 11 PRO MAX COVERS MADE?
watch the videos and discover our quality products
SOFT IPHONE 11 PRO MAX CASES
PROTECTIVE
Custom silicone iPhone 11 Pro Max cases are the perfect models for those who are looking for maximum protection for their device. The slimness of the case is the perfect compromise between aesthetics and protection. Custom iPhone 11 Pro Max case with a thickness of only 1 mm covers the entire perimeter of the iPhone, reducing the risk of breakages by 90%
RESISTANT
Your custom iPhone 11 case is made in TPU, a very resistant, abrasion and shock-resistant material, with strong memory foam, which make your case very resistant, but that's not all...Thanks to the high quality of the printing process of the TPU custom iPhone 11 Pro Max case images are bright and defined even after intense use.
SURPRISING
Let yourself be amazed by the quality of the details of the custom TPU iPhone 11 Pro Max case: the case is equipped with holes perfectly corresponding to smartphone ports to allow you to charge your phone and use your headphones, with your case on the phone. Moreover, the silicone custom iPhone 11 Pro Max case has a thin edge, which protects the screen from scratches caused by contact with surfaces.
WALLET IPHONE 11 PRO MAX CASE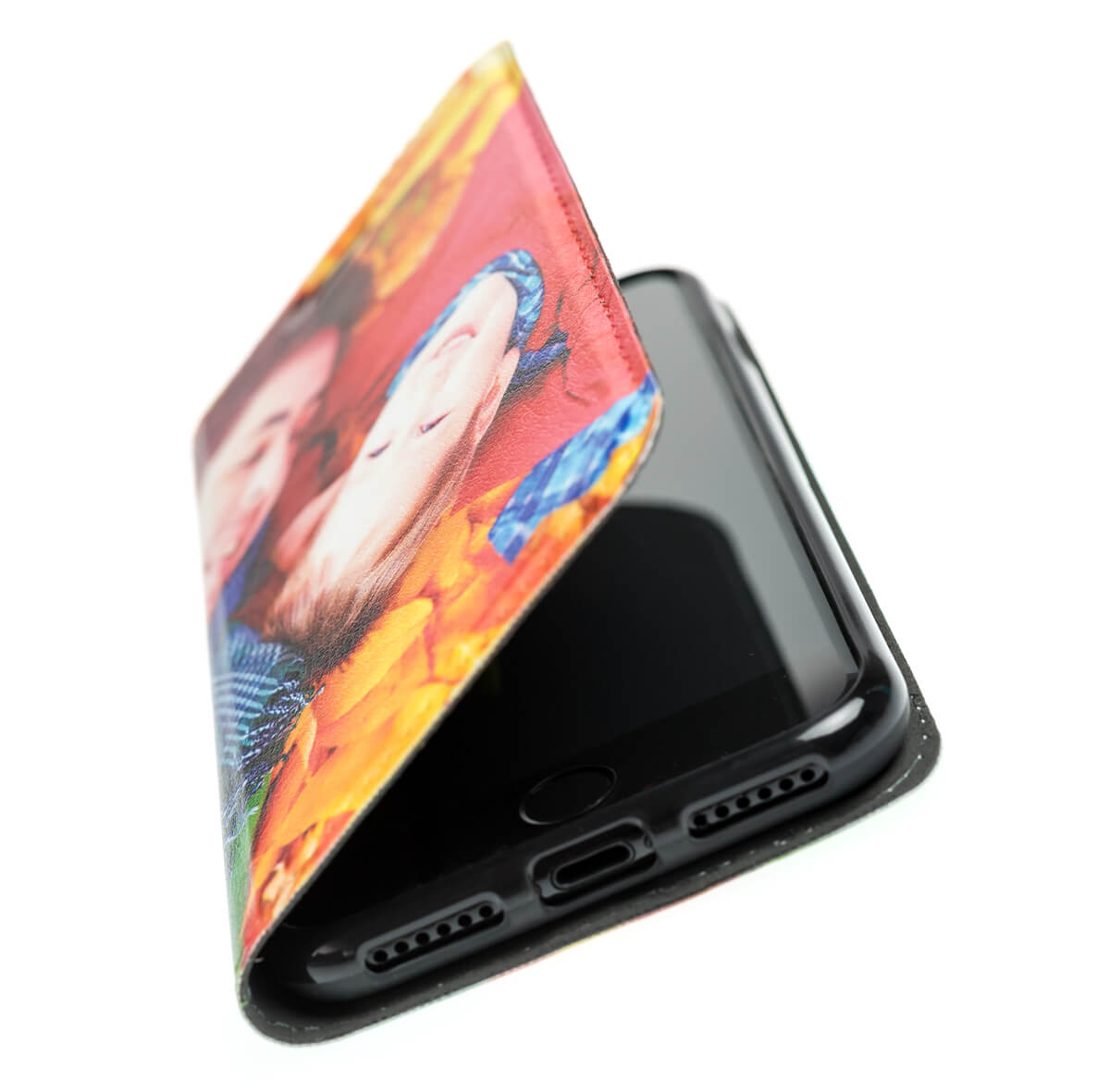 CONVENIENT
Super-practical and versatile. The iPhone 11 Pro Max book-style case has a tongue-free magnetic closure. It can be folded and used as a support to keep the telephone upright in order to watch multimedia content. It also has a handy space inside for cards.
HIGHLY PROTECTIVE
It reduces the risk of breakages by 95%. The case surrounds the telephone with a silicone shell and has an eco-leather cover which completely protects the device.
ELEGANT
The exceptional quality of the high-definition printing process, which is guaranteed to be long-lasting, makes the elegant eco-leather cover special.
CLEAR IPHONE 11 PRO MAX CASE
LIGHT
This iPhone 11 Pro Max case is so clear, it almost seems invisible! Extremely light and discrete, the clear case shows the Apple logo and will not yellow over time!
SOFT
It's a pleasure to handle an iPhone Pro Max that is soft and pleasant to touch! The clear iPhone 11 Pro Max case is made in TPU silicone, an elastic and durable material that is pleasant to touch.
ULTRA SLIM
An iPhone 11 Pro Max case that is so slim and light that it will protect your device without you even noticing! Just 1 mm thick, yet elastic, durable and strong. The perfect case!
Custom iPhone 11 Pro Max case: a fantastic gift idea
Would you like to offer a strong emotion to a loved one? Why don't you customized her/his iPhone 11 Pro Mac case with a special phrase? Amaze everyone with a unique gift!
Not only custom iPhone 11 Pro Max case
On Personalizzalo website, it is possible to customize man t-shirts, woman t-shirts, child t-shirts, long-sleeve shirts, sweaters, MacBook cases, bags and even more! Enter our builder and find out all the models available. Have fun customizing anything you want!